party week
Christmas Tree Tea
Join us for a festive 4-Day LIVE Online Experience, where Lydia will teach you the art of drinks, appetizers, table settings, and crafting stunning centerpieces - the perfect blend of merriment and skills this holiday season.DECEMBER 4th - 7th @ 1pm ET
Where the magic of the season intertwines with the art of hosting!
Explore a captivating experience brimming with the secrets of crafting delectable drinks, tantalizing appetizers, elegant table settings, and charming centerpieces!
Whether you're a seasoned entertainer seeking to enhance your skills or an enthusiast eager to discover the nuances of festive hosting, this live online event promises to be a joyous celebration of learning, creativity, and the festive spirit.
Come join us for an unforgettable gathering where cherished traditions and newfound expertise converge, creating memories that will linger far beyond the holiday season.
Join the Party!
Dec 4th
Learn how to effortlessly curate a charcuterie board, elevate the classic cheese & crackers, and shake up a delightful festive cocktail (or mocktail!). Discover the art of simplifying these starters while maximizing their visual appeal and flavor, setting the perfect tone for a memorable gathering.
Dec 5th
Discover tips and tricks to unleash your creativity, ensuring each setting is a masterpiece. Learn the nuances of proper table setting, from the placement of cutlery to the arrangement of elegant details. Plus, get hands-on in crafting personalized place cards, adding a touch of charm and sophistication to your gatherings.
Dec 6th
Get hands-on as we craft stunning centerpiece arrangements for your table! Discover the secrets behind arranging festive centerpieces that captivate the eye and enhance your holiday ambiance. Learn step-by-step techniques to create a beautiful focal point that complements your table setting, infusing the space with warmth and charm.
Dec 7th
Be part of an interactive experience where we collaborate to create a delightful menu! Join Lydia in preparing one of her cherished recipes, offering you a firsthand opportunity to learn and savor one of her favorite culinary delights. Dive into the cooking process, gain insider tips, and relish the satisfaction of crafting a dish that embodies the spirit of the season.
entertain with confidence
Experience the joy of holiday entertaining
Join me for an enchanting celebration of creativity and holiday cheer at the Christmas Tree Tea Workshop—let's craft unforgettable memories together! DECEMBER 4th - 7th @ 1pm ET
Frequently Asked Questions
When does the party start?
Party Week: Christmas Tree Tea starts Monday, December 4th @ 1 pm ET
I want to learn, but now is not a good time for me. Can I still join Party Week?
YES, of course! That's the best part about the Party Week. You will have access to the video tutorials whenever you are ready for them.
You can start when we do, or you can start in two weeks or two months, no problem!
You will remain in the Facebook group and have forever access to the videos for your convenience.
How long do I have access to the videos?
You have lifetime access to these videos!
So even if you can't complete them live with us, you can go back to the videos whenever you want to.
What if I'm new to entertaining?
Lydia warmly welcomes individuals new to entertaining. Party Week is designed to be inclusive, offering a supportive environment where beginners can gain valuable insights and hands-on experience. Whether you're taking your first steps into hosting or seeking to enhance your skills, the workshop provides a friendly setting to learn the fundamentals of hosting a festive gathering.
I don't know where to begin. What will I need?
Once you register, you will get an email with a detailed shopping list AND a link to our private Facebook group where you'll have the opportunity to ask questions.
Do I have to pay to join if I'm a member?
No! Members of The Supper Club and current members of Party Prep School get free access to the workshop. Request to join the private Facebook group and you'll get free access.
I have another question.
Sure thing! Lydia would be happy to answer any other questions you have. Just reach out to her at lydiamenziessupperclub@gmail.com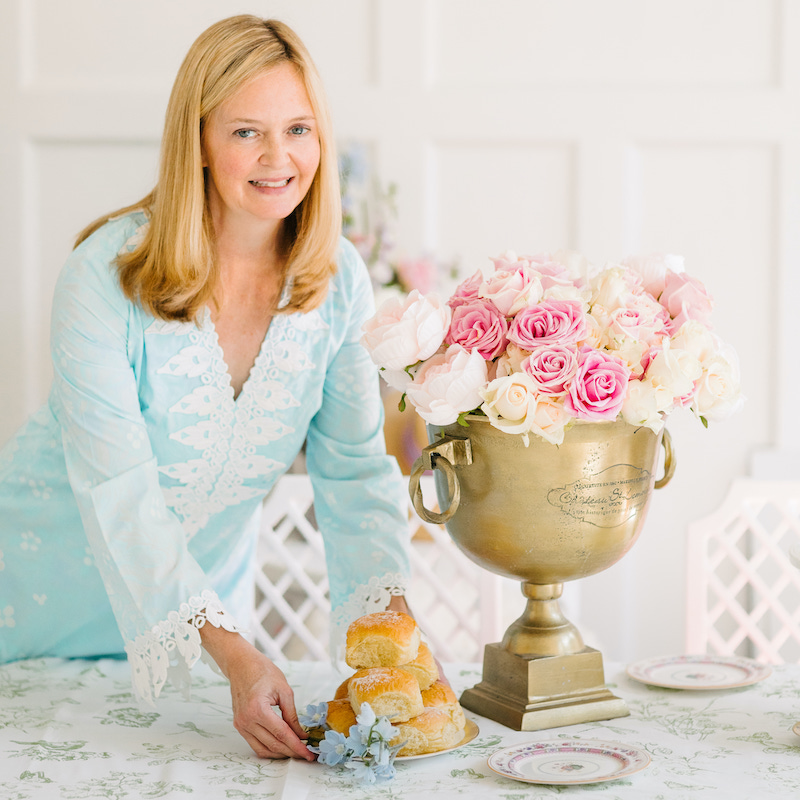 hi. i'm lydia menzies.
I HELP MAKE YOUR GATHERING A CELEBRATION
Lydia Menzies, our esteemed host for the Christmas Tree Tea Workshop, is an entertaining expert known for infusing unforgettable creative details into gatherings, whether large-scale events or more intimate celebrations. Her passion and mission revolve around transforming every occasion into a distinct and memorable experience, a sentiment she eagerly shares and brings to life in this special event.
---
---