A day in Wonderland for a 4-year-old's birthday is quite a treat for us all! Marie, of Sweets Indeed, has always loved Alice in Wonderland, and she was ecstatic over designing a dessert table for a customer that requested an Alice-inspired party! Marie started by making a tulle table skirt and white pinafore to match the dress that Alice wore…read on for all of the delectable desserts!
Marie used cups and saucers that she found at local stores and glued them together (using E-6000 glue) to make the perfect topsy-turvey displays! Marie decorated them with ribbons and stickers~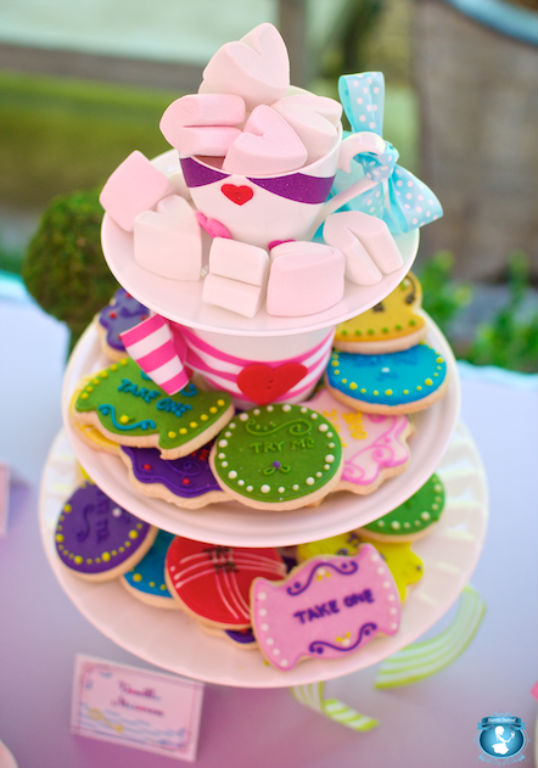 Inspiration from the story is used throughout- with cookies to match those that Alice ate and macarons with painted red roses…
Hedgehog cupcakes and cupcakes with flowers added to the sweetness of the day~
And what is an Alice in Wonderland party without a reference to The Mad Hatter? Marshmallow treats in just the right colors!
Marie also added whimsical lanterns and velvet chairs to the surround the dessert table~
The guests were given erasers shaped as tarts for favors~ how appropriate and cute!
Such a fun peek down the rabbit hole! Thank you for sharing this delightful party, Marie!
Find lovely treats and perfectly-planned parties at Sweets Indeed! Marie is especially known for her candy skewers- we gave them as Valentine favors last year and they were a big hit!
Party and Table Skirt /Pinafore by Sweets Indeed
Mad Hatter Marshmallow Pops- The Marshmallow Studio
Cake and Hedgehog Cupcakes by Vanilla Bake Shop
Photos by The Pixel Studio