There is nothing like the bright colors and happy prints of Lilly Pulitzer to make every day feel like a party! For my daughter's 12th birthday party, she wanted to decorate cakes~ Lilly-style! So, in order to decide how to mesh the two, I kept thinking "if Lilly had a cake shop instead of a juice stand"… I have to admit, this was one fun party to plan! It is a blast to see where ideas go in the hands of a TWEEN! Enjoy and remember, "…being happy never goes out of style!".
I actually looked for images of Lilly's first shop in Palm Beach and created our own version of the original store. When the guests arrived, there was a shop set-up with bright, popping colors. Instead of shifts, as Lilly would have had for sale, we had aprons (made by Little Shepsters on Etsy) for the cake decorating. I also had a couple of vintage Lilly Pulitzer dresses hanging in the "shop" to give it an authentic feel. I put one of the vintage dresses on an antique dress form with a sign that read, "Open for business".
Because there are so many, many Lilly prints out there, I asked the Birthday Girl to choose a print that she would like that we could use as the main print and that we could use as a focal point. She chose the print called "All Nighter" which has really bright colors, swirly paisleys, and hot pink flamingos. She especially liked the almost-neon yellow that was part of the pattern. And so, I had aprons made that were solid colors and then trimmed with the print.
As a play on the Birthday Girl's nickname, we had hangtags that read, "Milly Pulitzer" on each apron…
To pull in the flamingos from the pattern, we lined the sidewalk to the entrance with 12 flamingos. I also hung plants on shepherd hooks to mimic the 'jungle" look that Lilly Pulitzer was so crazy about in real life.
Of course, there had to be a nod to the Juice Stand…the sign reads, "it all started with a juice stand"…
And, I loved incorporating fruit any place that I could~ fruit is what really started it all!
Each of the girls wore something Lilly to the party to add to the spirit of the day! It was so fun to see the different prints that they chose and to see how they express their own styles. The aprons were a fun way to literally tie it all together!
I always love how they help each other…
I ordered a book named ESSENTIALLY LILLY- A Guide to Colorful Entertaining for the girls to sign as a momento for the Birthday Girl to keep and have on her own coffee table one day. It was a fun read for us, too!
After the girls signed the book, they were able to "design their own Lilly print" in cookie form! I sent a photo of the pattern that we were using for the party to Flourish Sweet Shop and they put the pattern outline on a square cookie. They also included a paint palette cookie and paint brush so that the girls could paint their own design…they each took a seat around the dining room table and created their own cookie print!
Each place setting had a customized placemat for the guests and a pink glass plate along with the cookies~
The party was mid-afternoon and so there was no need for a meal. We had many, many different juice choices, water, croissants, popcorn, and lots of Lilly-inspired bakery treats. I set-up the sweets tables in the kitchen area along with the cake-decorating stations. We decided to call the cake shop Camille's Cakery. At the Cakery, there was a table with a cake stand for each guest and cake boxes for treats…
I used the Lilly print fabric for one table and then used white on the other tables so that the bakery treats could be seen easily. There was so much artwork that went into each cookie and sweet- I loved each one! The cake was made by Kathi, at My Sweet Things, and was a crisp white with a preppy, geometric design in blue. On top of the cake was an extraordinary fondant topper handmade by Sachiko at MimiCafe Union NY.
I told Sachiko that the Birthday Girl wanted a Lilly Pulitzer bake shop~ and she created the cake topper with a Lilly printed background and then ityy-bitty bakery treats tucked away on bakery shelves. It really is amazing! The time and effort alone make it very special, but then to see all of the details makes it hard to even describe!
I also worked with Sogoal of Sogi's Honey Bakeshop to come up with these amazing little cookies! We chose Lilly prints and Sogoal handpainted them on cookies.
My daughter won't even eat these because they are too pretty! I have to admit, I wanted to save each one, too.
And, these! These amazing little Lilly Pulitzer handbags are just too cute- and 3-D! Nadia, at My Little Bakery, handcut and hand-painted these…and somehow managed to ship them all in one piece! I just love these, too!
Thank you, Nadia, for making these for us! I love it that you are not afraid of a challenge!
And, what 12 year old can resist brightly colored cupcakes with confetti sprinkles? Thank goodness for Loralee Lewis and her fabulous paper to dress-up cupcakes with cupcake wrappers and toppers. "Friends are the Frosting on the Cake" couldn't be more accurate for this party! Loralee designed so many fabulous items for us to help me bring together the theme. From the invitations to the favor tags, the paper was beautiful and perfect!
The sweet Marie, of Sweets Indeed, sent us these fabulously fun Pineapple Candy Pops! Candy Kabobs are pretty hard to resist~ especially when they are shaped like a pineapple! I love the clever designs that Marie comes up with to add sweet creativity to a party! How fun are these?
Of course, my daughter loves decorated cookies in the biggest kind of way. Tara, at Bambella Cookies, made these lovely cookies to go along with the cake decorating theme. Tara's style is always unmatched- always very elegant! I loved the birthday cake cookie customized with a C and a pretty pink bow on it!
Look at the cute frosting tubes…
These flamingo cookies were fun! The legs tied on with ribbons so that they could strut!
Tara also made an apron cookie that perfectly matched the green apron that the girls wore! I sent her a picture and she designed it to match…
I found the most adorable Pegdoll Shop called Peg and Plum and wanted to incorporate some of her work into the decorations at the party. I asked Elizabeth if she could make pegdolls dressed in Lilly Pulitzer- and she can (and very well!). I thought the girls would be "too old" for wooden dolls, but they seemed to love them, too! I set them out as part of the decorations and the girls wanted to take them home!
Flourish Sweet Shop sent along some cookie dresses for the party, too! Dresses, flamingos and paisleys made up the set of cookies that Lisa made for the party, in addition to the cookies that the girls painted.
A fancy drink is always fun- and these fancy fondant flamingo drink toppers from MimiCafe Union are just fantastic! They each have their own personality and style! I tied a simple blue bow on to glass bottles and added the drink toppers. The straw keeps the flamingos on the bottles!
I also did a few with pink bows…this one is a little camera shy.
The girls used these awesome cake boxes by Loralee Lewis for their treats so that they can take them home to enjoy! Sweeter by the Dozen was another fun way of using the birthday girl's new number in the party theme!
And, aren't these customized plates from Loralee so cute?! I love it that she now offers paper plates for parties- they are always great to have! I just love the special touch they add!
And, then, it was time to decorate some cakes! I set-up 2 tables for the girls to work on while they stacked, frosted, and decorated. It was fun to watch them use their creativity! We made homemade buttercream frosting ahead of time and let the girls decide what color they wanted their frosting to be. We supplied gumballs, Sixlets, sprinkles, and mini cookies to use for decorating the cakes…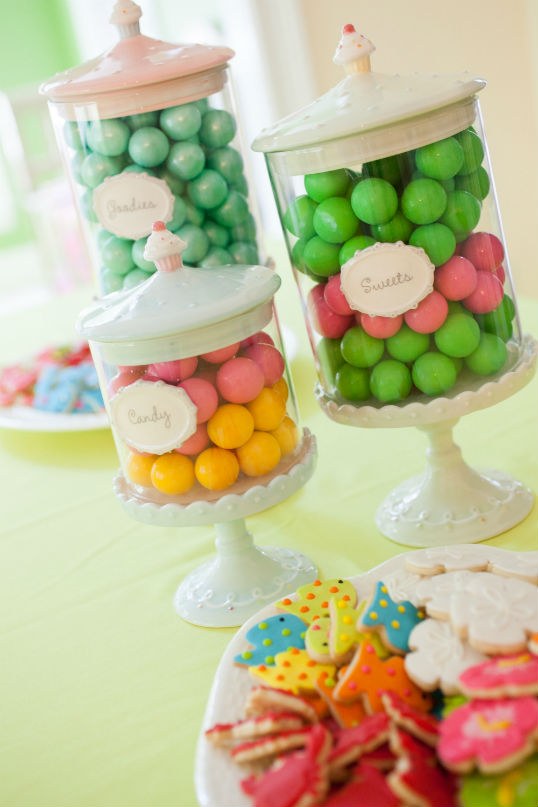 All of the mini cookies were chosen to go along with what you would see in Lilly Pulitzer prints. These cookies were the absolute cutest things and so perfect for decorating the cakes! Keri, of Picket Fence Confections on Etsy, made them for us. Keri is one of my favorite people to work with- she makes it so easy! Her cookies are mini bites of perfection (Keri has even been featured in Martha Stewart for her fab confections!). Loved them!
I also had small art prints to put around at the party~ all designed by Kelly Tracht on Etsy. These were perfect to pull in the Lilly look and also made great party favors for the girls! They were a big hit!! Each was different and so the girls were able to choose their favorite and take home a unique print!
I told the girls to take a look at what they had to use to decorate and make a little plan in their heads about how they want their cake to look. I also gave them directions on how to start with the cardboard cake round and put frosting on that first to keep the cake from sliding. We talked about stacking, frosting, and decorating and the girls took off.
The lovely finished products…
The girls also enjoyed taking photos of each other with a Polariod Instax as well as posing for some official photo ops!
Loralee also made these party-perfect water bottle labels with a quote from Lilly Pulitzer…
I also used pineapples a lot to go with the fruit theme, and because we have allergies to flowers in my house! Pineapples make a great decoration when you need to fill a space with something natural other than flowers…
I used pineapple paper lanterns from Oriental Trading to decorate a side porch…
And, Pineapple Sunglasses were a fun part of photos- and they were cute favors for the girls!
SUCH A FUN DAY! And, this is my favorite picture of the day!
I hope you have enjoyed the fun-filled, bright, happy, Lilly Pulitzer party! I would love to hear how you celebrate your tweens! Cheers!
I AM ALWAYS SO GRATEFUL TO THE TALENTED LADIES AND MEN THAT CREATE SO MANY OF THE ITEMS THAT ARE SHOWN IN THE PHOTOS. YOU ALL HELP BRING THE PARTY TOGETHER AND TO LIFE! THANK YOU!!
PLEASE SEE BELOW FOR THE LIST OF SHOPS THAT ARE SHOWN WITH LINKS TO HELP YOU FIND YOUR WAY TO THESE WONDERFUL BUSINESSES!
PHOTOGRAPHY- ZOOMWORKS
ALL PAPER PRODUCTS (SIGNS, INVITATIONS, FAVOR TAGS, PARTY HATS, ETC. )- LORALEE LEWIS
CUSTOM APRONS- LITTLE SHEPSTERS
LILLY PULITZER FABRIC (fabulous service!)- LILLY FABRIC CO.
VINTAGE LILLY PULITZER DRESSES- CURRENT VINTAGE
LILLY OUTFITS ON KIDS- CLOISTER COLLECTION OF ATHENS
FONDANT CAKE TOPPER- MIMI CAFE UNION NY
FONDANT FLAMINGO DRINK BOTTLE TOPPERS- MIMI CAFE UNION NY
CAKE- MY SWEET THINGS
COOKIES MADE TO LOOK LIKE LILLY HANDBAGS/SHOPPING BAGS- MY LITTLE BAKERY
COOKIES WITH PAINT PALETTE AND BRUSH- FLOURISH SWEET SHOP
COOKIE SET WITH DRESSES, PAISLEY DESIGN, AND FLAMINGOS- FLOURISH SWEET SHOP
COOKIE SET WITH CAKES, FROSTING TUBES, AND APRONS- BAMBELLA COOKIES
FLAMINGO COOKIES WITH LEGS TIED ON WITH BOWS – BAMBELLA COOKIES
COOKIE SET OF LILLY PRINTS HANDPAINTED ON COOKIES- SOGI'S HONEY BAKESHOP
PINEAPPLE CANDY POPS/ CANDY KABOBS- SWEETS INDEED
MINI COOKIES USED TO DECORATE CAKES- PICKET FENCE CONFECTIONS
PEG DOLLS- PEG AND PLUM
GLASS CAKE STANDS- MOSSER GLASS
FLAMINGOS IN YARD- ORIENTAL TRADING
PINEAPPLE PAPER LANTERNS- ORIENTAL TRADING
PARTY BY LYDIA AT THE PARTY WAGON