What began as a simple gesture to introduce my daughter to a wonderful book series has become a special evening ritual for us- reading Laura Ingalls Wilder's Little House books! I must admit, I didn't realize quite how interesting these books would be to her, but she cannot wait to read all nine in the series. It was only fitting that her birthday party focus around Little House on the Prairie! Together, we had a ball planning all of the details of her party that related to the books in some way. At Camille's request, we focused on some of her favorite parts of the stories… prairie flowers, covered wagons, tee pees, the colors in the drawings of the books, and "pretty"…because "Ma" liked things to be pretty!
Our neighbors were kind enough to let us host the party at their horse farm next door to our house. It was the perfect prairie! Using old-fashioned goodness to set the tone, guests received vintage handkerchiefs with the invitation printed on them.
Each hanky was folded and tied to a card that gave details about life on the prairie during pioneer days…
My mother drew the covered wagon art work for the invitation.
As the girls arrived, each chose an apron and sunbonnet~ similar to what the prairie girls wore!
I loved the mix of fabrics that were chosen to reflect the florals, ticking, gingham, and solids of the day!
I loved how they helped each other!
The prairie was complete with a covered wagon where the food was displayed and tee pees depicting the "Indian Territory" from the stories.
Each girl also had a "dinner pail" waiting for them so that they could use them throughout the party. The tin pails had a crocheted tag with each initial to help them keep up with their own pail. Crocheting was one of the many handcrafted activities that pioneer girls learned on the prairie…
The desserts were beautiful- each like a little work of art! I wanted to make sure that the food wasn't too excessive, and so we served cake, cookies, and popcorn…but, wow, the cookies and the cake were so pretty! "Ma" would have been proud!
The cake was a wonderful collaboration between baker and fondant artist! The blue gingham reflected the fabric of the time, and the flowers were chosen to represent all of the prairie flowers. A simple wooden barrel of flowers was the perfect topper~
The cookies were gorgeous and such a treat! Gingham cookies with wildflowers…
I asked Renee, of Bee's Knees Creative, if she thought she could make a "crocheted" flower cookie. Wow! They turned out perfectly!!
One of Laura's nicknames was "Flutterbudget" and so Renee also made bite-sized Flutterbudget flowers that I displayed on tin spoons tied with customized birthday ribbon~
I also wanted to tie in "quilted" cookies as quilts were another handmade activity and necessity in pioneer days. Christine, of Better Bit of Butter, impressively crafted quilted cookies and created an exquisite "cookie quilt"!
The cookies came with directions on how to arrange them! Christine thought of everything!
Christine made two sets of quilted cookies~ these I loved stacked on a "rusted" cake stand…notice the quilting technique hand stamped on the cookies!
I also love these button-stitch cookies that were served~ so beautiful and perfect!
I always like to make sure the "new birthday number" is part of the special day, and so the filigree vintage 9s were a perfect way to incorporate! I surrounded the lollipops with hand-crocheted flowers and served them from a wooden box~
Because candy was a very special treat in pioneer days, I wanted to have old-fashioned candy as part of Camille's party. I loved being able to tie-in her name in vintage calligraphy at the same time!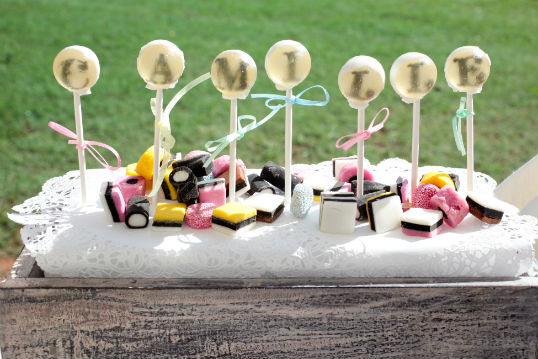 Popcorn was another extra-special, very exciting, and rare treat for the children and adults on the prairie! I wanted it to feel extra-special and so I put the popcorn in blue and white bags and then placed those bags inside paper bags that were tied with tatting (almost a lost art) and lace.
If you look closely in the photo above, you can spot the tatting- a delicate chain of hand-sewn trim that I found in an antique shop. I loved the intricate way it was sewn. I also used lace, as tatting is hard to come by~
I used crocheted flowers on the party balls that I made from muslin and ribbon to decorate the popcorn wagon…
A party was also a rare occasion and, in the book, Laura was invited to Nellie Oleson's birthday party. At Nellie's party, Laura tasted lemonade for the first time! Pure joy and excitement for Laura- very surprising to Camille!
I also had button candy to represent a traditional gift that mothers and young girls made for babies back then…button strings as toys for the babies and toddlers!
For the tables settings, I used mismatched lace tablecloths that I found in vintage shops. I used a lot of muslin throughout the party- I covered the chairs in muslin to resemble flour sacks. Each guest had a tin cup with a crocheted flower tied to the handle~
Napkins were a collection of different, hand-embroidered, vintage handkerchiefs tied with birthday ribbon~
My favorite part of the table setting was the hand-embroidered pillows in each chair. Throughout the books, gifts were always placed at the table setting for family members or guests. Camille's guests had adorable pillows with their names waiting in each place~
The pillows were another nod to handmade goodness that was a consistent part of prairie life. Each pillow had wildflowers across the bottom and a bug motif along with the name.
There was a grasshopper invasion that was a huge part of the story of the Ingall's lives, and so many of the pillows included a grasshopper (other bugs were butterflies, ladybugs, dragonflies, and bees)!
I can't say enough about how darling these little pillows were- each one unique with hand-embroidery and with a different fabric on the back.
The girls were eager to try all of the cookies and to enjoy the cake!
The cake was served on tin plates. My daughter found a lace ruffle that she liked on one of our fabric store trips and she asked if we could use it. I wasn't sure how I would use it at first, but we ended up adding the ruffle to the tin plates. We did it together using Glue Dots, and it turned out to be a pretty little detail! Here they are stacked…
One of the biggest sources of entertainment for Laura Ingalls and her family was Pa's fiddle. Laura loved for Pa to play at night and they would dance and sing and have a wonderful time together. I was lucky enough to find a wonderful fiddler for Camille's party! She played from the moment the guests arrived and her music set the tone for a fun and lively party! She also led the birthday song when it was time for cake!
A few fun details…
Old- fashioned good times continued after the cake! Laura Ingalls and her sister Mary liked to collect beads from Indian Territory. They would go with Pa and collect the beads, and then they would make jewelry out of it. We scattered beads around the tee pees so that the girls could have fun hunting for beads, too!
They also played "Blind Man's Bluff" (one of the favorites) and "Who Has the Button?"…
There was a sweet little pony for the girls to enjoy taking care of on the prairie~
Slates were scattered about for doodling and there was also the Clothes Pin Drop Game.
And, the absolute favorite of the day…jumping rope!!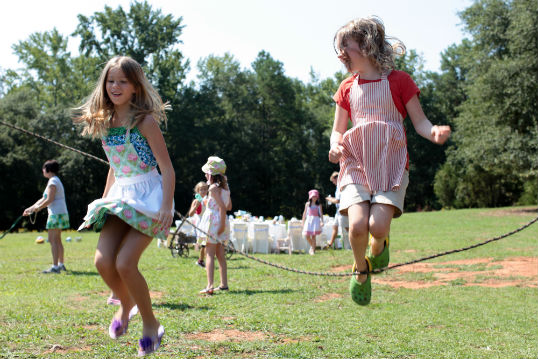 At the end of the party, the girls were able to choose their own party favors! An obvious choice of favors~books from the series!
One of the most fun projects that Camille and I did together for her party was making candles for each guest. We scoured many vintage shops in order to find enough teacups. We then filled each with a wick and wax and tied a ribbon on the handle. The best part was choosing each beautiful little cup!
We explained that the Ingalls family relied on candle light and later kerosene for light…
This was such a fun part of the planning! We ended up making 30 tea cup candles to include the guests and the grandmothers- and we plan to give some as gifts for teachers!
Old-fashioned fun with my favorite 9 year-old! It is hard to believe she is already NINE!!
VENDOR CREDITS~
Invitations and Paperie- Loralee Lewis
Aprons and Bonnets- Aimee Broussard Handmade 
Embroidered Pillows- customized- Yelli Kelli
Fondant Cake Topper and Flowers AND the gingham icing sheets/sugar sheeets- Sugar High Inc.
Cake Baker and Designer- My Sweet Things
Gingham, Crocheted, Mini Flowers, Personalized Cookies- Bee's Knees Creative
Quilt Cookies- Better Bit of Butter  
Button Stitched Cookies- BB Sweets  
Photography- Zoomworks Photography
Filigree Number 9 Lollipops- and Lettered Lollipops-  Vintage Confections 
Button Candy- Andie's Specialty Sweets  
Crocheted Flowers and Initial Tags (on pails)-  Q Spring 
"Happy Birthday" Ribbon customized-  Clutterbug Studio 
Silver Pails- Oriental Trading
Flowers- Always Always Florist
Party by Lydia at The Party Wagon
"quilled" flowers on cake inspired by KaylasKakes
Gingham design on cake inspired by Bijoux Doux Specialty Cakes, NY
A HUGE thank you to my husband, my parents, my in-laws, and my nieces for ALL of the help on party day! If not for your help, I would still be setting up! And, another huge thank you to Laura and Mike for letting us borrow your "prairie". And, to Laura Pennington for the tee pees and covered wagon top!