Designing creative, inviting, and colorful tables is made more beautiful with Giddy Paperie!  Leslie Chalfont, owner of Giddy, has an eye for what brings joy~ and it translates into her designs for table settings and home accessories. One of Leslie's recent designs is the pink poinsettia and jingle bell combination.  The pink poinsettia napkins and pink poinsettia placemats add so much happiness to a table- and make the most perfect Palm Beach Brunch theme.
I paired Giddy Paperie's Pink Poinsettia Print with a year-round green leopard print, and love the combination.  The paper placemats come in sheets for easy use.  They make a great way to mix and match your table settings and to set a variety of tables without the investment of cloth placemats.
Here is a peek at the Palm Beach Brunch theme I styled using Giddy Paperie's Pink Poinsettia napkins~ the napkins were the perfect style and color that inspired the whole look of the theme.  I share these table top and party theme ideas with you at The Supper Club (if you haven't joined yet, you can join here).
I also think this pink and green holiday pattern would be so cute for a Christmas breakfast~ add these cute mugs for coffee or hot chocolate to keep the theme going.  The mugs also make the cutest party favors and gifts.  I love the pink and green Santa mugs, the Pink Poinsettia mugs, and the year-round leopard print mugs for coordinating the look.
You can also add the gift of pink and green cheer around your home with these cute pillows, too! I think the Santa pillow is a cute touch- and the coordinating pink and white gingham border and back tops it!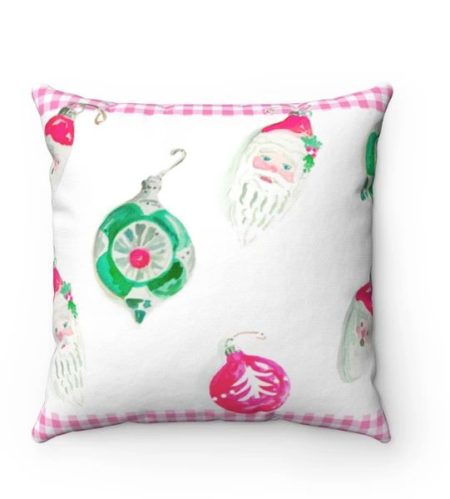 Are you loving the pink and green twist on Christmas, too?  I love being inspired by friends to create new themes around old traditions!  This color scheme breathes a fresh take on the wonderful fun of Christmas and sparks happiness in us all.  Giddy Paperie is always creating new and beautiful original designs.  Check back soon for ideas for Christmas table settings and gifts from Giddy with a more traditional spin! I can't wait to share more with you!
Cheers,
Lydia xo