It is time for our weekly progress check in for the One Room Challenge. As I mentioned in the previous weeks, my husband and I bought a house that was ready for a complete make over. The home was built in 1918 and, as part of the purchase, we agreed that we would keep the front facade and most of the home as it was when it was built. We were also bound by strict housing codes in our area.
After securing the foundation and beginning to add a basement, my husband redesigned some of the layout on the main floor and then redesigned the attic to create more livable space. This is, no doubt, the biggest project we have ever taken on. We have re-done every room in the house (and still going), and for the One Room Challenge I am sharing our guest bathroom. I hope to share more of the rooms as we go along, but for today…let's get back to where we left off with progress on our guest bath. The "old" is out and the "new" is in!
Here's the old…
Here is the "new"…
The cabinets are in and the sink and commode have been replaced. The tile floor that you see in the photo below is original to the house. We are replacing it with a small tile to keep a similar feel but to be fresh, new, and clean! The original tile was put right onto the concrete floor…we also had to correct the sloping in this floor by securing it from underneath the floor.
My husband's to do list looked more like this at this point… HVAC, electrical, insulation, sheetrock, tile for walls and floors (we found these together), and paint.
My to-do list consisted of faucet hardware, light fixtures, window treatment, accessories. My list seems way more fun than his, poor guy.
I showed you the brass hardware that I love for this room last week. Here are the lights that I found that I really love…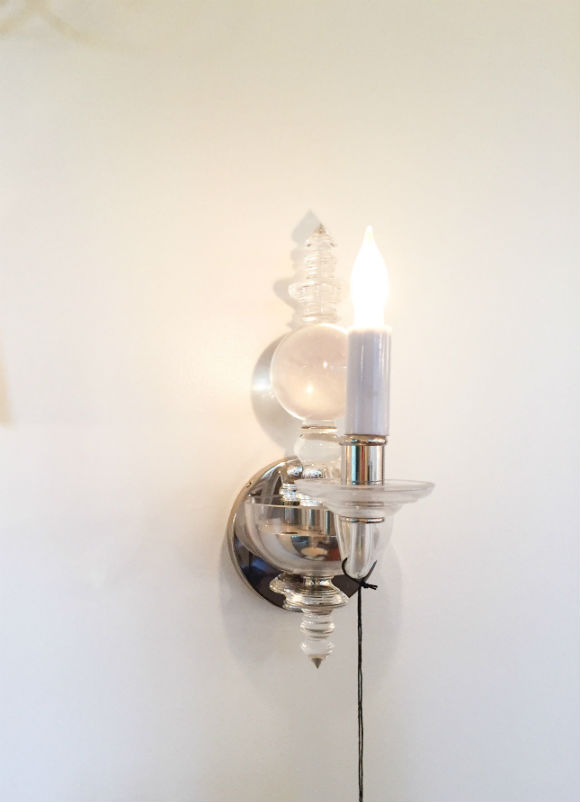 I fell for these light fixtures when I saw them on Oyster White Interiors' Instagram feed. I think I am going to go for it with this. It is fun and unexpected- so let's do it! 🙂
I know this is a short update…I will have more to share next week! Be sure to go see all of the other rooms that are being transformed over at The One Room Challenge! Also, thank you to Better Homes and Gardens for sponsoring the ORC! You can also see the previous weeks of this project here…Week One, Week 2, Week 3.
See you next week! Thank you for stopping by to see the progress!!
Cheers xo,
Lydia