Sweet Birthday Girl, Brynn, wanted to invite her friends to her party so that they could just talk and dance! With a DJ as the entertainment, we added a few fun elements that had Brynn dancing with joy! Check out these fun birthday dance party ideas!
The backdrop glowed with lights through an art canvas and tissue poms scattered and secured with Glue Dots. Mercury glass candles, surrounded by a pink boa, lit each table. Origami stars dotted the tables…
The star wands were perfect for the easy "Dancing Queen Doughnuts"~ Mini tulle poms added to the decorations…
The Pop Star Soda Bar was a big hit with pink soda with custom labels and tied with blue ribbons…
The table was lit with glowing orbs and small signs with lights~
The glasses were rimmed with pop rocks for an extra dose of fun!
Brynn requested a Sundae Bar for her party. Ice cream with "Chart Toppers" for the toppings!
The push-pop microphones served as the party favors- Brynn loved having her name on them!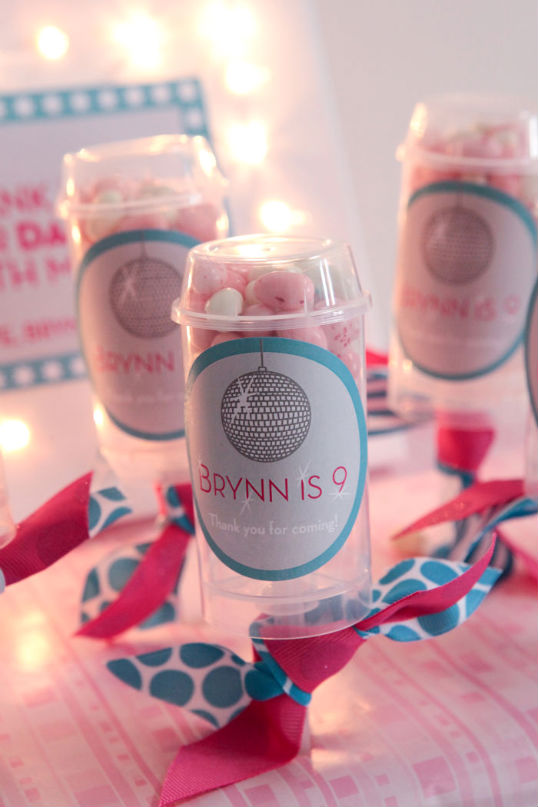 Brynn and her friends also ooohed and aaahed over the cake! They loved how big it was!
A fun day for all of the adorable dancing queens! HAPPY BIRTHDAY, BRYNN!
To see similar ideas with different colors, stop by and see the Rock Star Party, too!
Party- The Party Wagon
Party Stationery/Labels/Signs- Plain Jane Designs
Tulle Poms- Titi's Tutus
Paper Poms- Pom Flair
Cake- Patrick Dezii- Athens Country Club
Photography- Zoomworks Photography
Orbs- Save On Crafts