Citrus – themed party ideas are some of my favorites to create! The play-on-words is always a bonus with lemons, limes, and oranges which makes it fun to create a little bit of whimsy at the party. Orange you glad? 🙂 It was such a privilege to be able to plan the party for The Southern C Membership Welcome Party at the TSC Summit in February. It was held at Sea Island in GA, and so the weather allowed for us to be outdoors.
When deciding on a theme, I wanted to choose something that we could find easily, as we were all traveling a long distance and we needed something very manageable. We were also very thankful that the Summit was going to be able to be held even during the pandemic. And so, "Orange you glad to be at The Southern C" just sounded right.  I also wanted the main decorating items to be re-usable and citrus always seems to be the perfect choice. Not to mention, it seemed smart to offer lots of extra vitamin C! We needed to be able to set up quickly and without seeing the space before the event.  I knew we could do it, especially with lots of talented ladies and gents joining in together.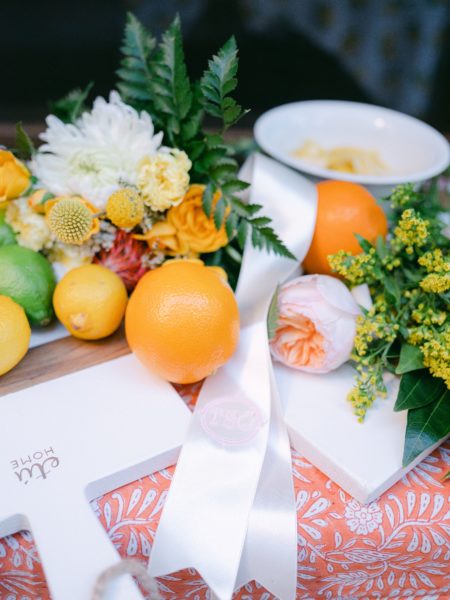 Here is a photo of the team we assembled to make it all happen on the day of the event. We missed Sirmantha, of From Sir with Love, who designed the invitations, napkins, and cups, name tags, and signs. Kelli Boyd is the photographer and we couldn't get her in the photos! Our photo below is also missing Kate from Merci Bouquet Flower Truck, as Kate had to get ready for the following day. Below, I share more so that you can see the details of the day/night!
Guests were greeted as soon as they arrived by the most adorable flower truck! Merci Bouquet Flower Truck parked in the front with flowers on the back so that there was an immediate excitement about the party. I can't think of a more welcoming sight than a super cute truck full of flowers!
We used lots of blooms from the truck around the patio and porch for the party- we went with pink, coral, orange, yellow. and green. Mixing the flowers and the fruits made for fresh and beautiful arrangements. Each guest was also greeted with a handmade mask by TSC Member and hostess Gabrielle Rogers of The Preppy Stitch.
Of course, each guest was also greeted with an offer for a drink in customized TSC cups by From Sir with Love. We garnished the drinks with colorful straws (because masks) and hand-drawn stir stick designs by Giddy Paperie x Acrylic Sticks.
The artist herself, Leslie of Giddy Paperie…
The outside patio and pool were a beautiful backdrop for the party, but we absolutely love the balloon installation that was created by Diane of The Enchanted Frog. It added such a perfect touch with the party colors and was a big impact on our small space. It was really fabulous- I loved having the balloon decorate the space in an unexpected way. Here is Diane, the designer behind the installation…
We served light appetizers with recipes by MK Hennigan, of In the Curious Kitchen. MK made her signature pimento cheese and ham pate'. We served them in individual cups with a bread twist. Here is MK, below, with her fabulous spread (and sporting her fabulous TSC custom crown). We also topped the tower of appetizers with a monogrammed Twilly from The Preppy Stitch.
Everyone raved about the pimento cheese for days after the party!
Speaking of raving…did you realize that the citrus topiary is a CAKE?? Cake! By the always incredible Julie McAllister of For Heaven Bakes. Julie drove the cake from Charleston and we all enjoyed watching the reactions when everyone was told it was cake. We added blooms to the topiary and a little sign at the top, but otherwise, it is all edible!
Julie also made the most fabulous cake bites- some with vanilla icing and some with chocolate icing. They were so delicious- that is another perk of Julie's cakes…they look amazing and they taste amazing!
Here is Julie with her masterpiece of a cake~
I have to say a huge thank you to Cheri's (TSC co-founder) husband, Vance Levy, for taking on many roles to help~ especially making the unbelievably good cocktail recipes that were supplied by Cathead Vodka.
I was so excited to get to meet Supper Club Member Lee Bogle, of The Southern Sideboard, in real life!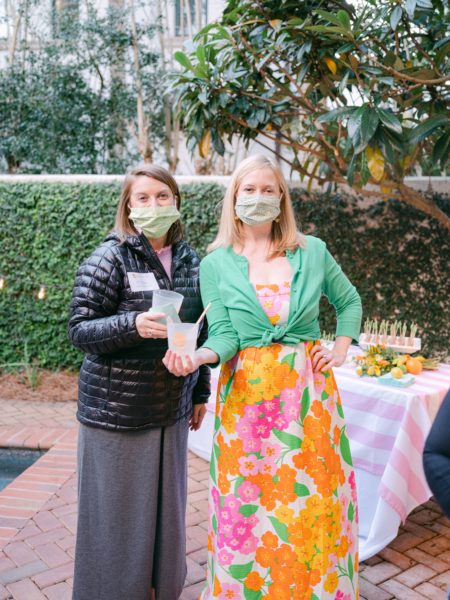 It was such a wonderful night and a wonderful chance to get to be together at The Southern C. Being a member of the group has been such a fantastic choice for me, and I was honored to be able to help plan the Member Party with so many wonderful ladies.
Cheers,
Lydia xo