In an old house in Paris, that was covered in vines…Miss Clavel said, "…it's party time!".
Each guest received a beautiful invitation wrapped with a band and tucked inside a felt pouch~ made to resemble the cape that Madeline and her friends wore~

The table was set in two straight lines…each child had a placecard with their name and a small fondant Madeline at their place at the table~

As the guests arrived, they were greeted at the door by Miss Clavel (my daughter's wonderful Kindergarten teacher) and were given little red suitcases and blue felt capes designed by Kate Landers and used with her blessing~
Each suitcase had a gorgeous luggage tag by Loralee Lewis. Loralee was kind enough to surprise me with a custom design made especially for this party.
Miss Clavel took them to "The Louvre" for Lessons at the Louvre~

I hung Camille's artwork as the featured artist at the Louvre and her sweet art teacher led the lesson.

They entered in The Old House and made their way around Paris with adventures along the way~ the house was drawn by my mother and painted by the birthday girl and my mom. Camille loved painting the house!
The girls listened as Miss Clavel set the mood by reading Camille's favorite Madeline book, Madeline's Rescue.

Next, they enjoyed Madeline's Hat Parade where each child stood on number when the music stopped and, if their number was called, they chose a hat and then went to the Cafe' for a parisian snack.
The Cafe tables were simply decorated with a sunflower on each table- a nod to Van Gogh's painting, Camille's Sunflowers…

The guests enjoyed french fare and a trip to the Candy Shoppe~
Camille had a few special requests for her party- a candy shoppe, lots of red bows, and puppies like Genevieve had in the story, Madeline's Rescue. I loved incorporating those into the party!

There was a hunt for Genevieve that involved going around Paris looking for the pup- each stop included questions and clues for the girls to use to go to the next stop. They got to see the sights along the way!
When the pups were found, "…there was enough hound to go all around…" just like in the book! Each pup had her own dog tag with a french name on it and tied with a red ribbon.
As cake was served, the guests took their seats~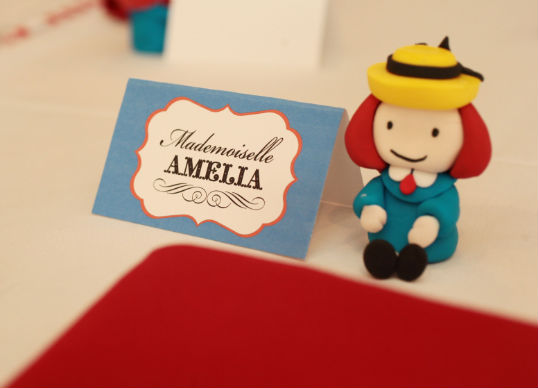 There was also a stop by the Bookstore to pick up the latest Madeline book~ a little something for long trip back to America…

Bookplates were in each book~

<img style="width: 538px;" src="https://static1.squarespace.com/static/5bfec337a2772c868d6f0b31/5c00983c1ddab29d6705c8aa/5c00983d1ddab29d6705ea0a/1325517825953/Madeline+Book+Plate+2's all there is; there isn't anymore".
This party is very dear to my heart! We have read Madeline since my daughter was born, and now she enjoys the movie version with the "real" people. It was a joy to watch all of the guests as they enjoyed "Paris" for a day of fun in the life of Madeline. Bonjour!

Credits~
Party Styling- The Party Wagon
Party Stationery- Loralee Lewis
Fondant Madelines and Cake Toppers- Edible Details
Felt Envelopes for Invitations and Felt Capes- Stell and Livi
Cake and all Desserts- Patrick Dezii- Athens Country Club
Red Suitcases- The Paper Source
Hats- Michael's

A huge thank you to 3 of my daughter's teachers for so kindly sharing their time and talents! Mrs. Inscoe, Mrs. Lilliston, and Mrs. Presnell helped make this party very special! Also, thank you to my parents for helping with this party in the biggest way- I could never pull it all together without your help! Merci Beaucoup!