Hello, Friends!
I have so much to catch up on but wanted to stop for a few minutes and share this week's fun finds that I love from Draper James! I hope you love them, too. Let me know what you choose and how you like it- I really enjoy hearing your thoughts! Here's to good week ahead! Let's do some shopping together~
Seersucker Shift – I love how simple dresses are for summer, and I love the lightweight material of seersucker. This easy shift is a summer staple and is also perfect as a cover up at the pool or beach.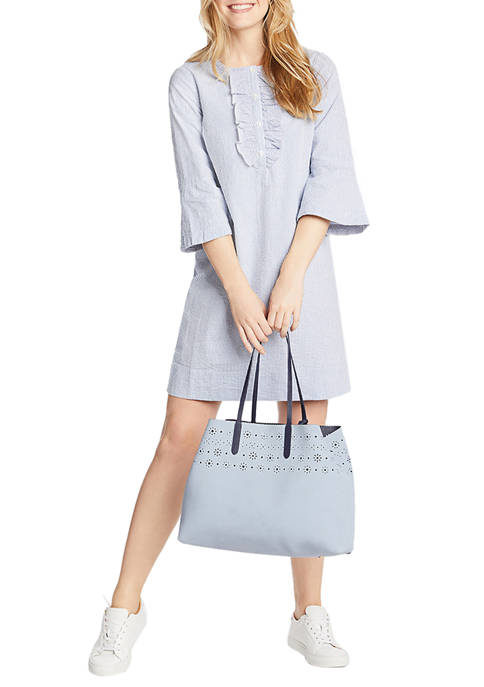 2. Navy with Dots Tiered Dress – I love the shape and slight swing of this dress. The tiers give it personality- and navy goes with everything. Pair it with a striped sandal or wedge- or stick with a solid. It is so flattering and pretty.
3. Chambray Dress with Belt– this is a really versatile dress that looks great with a sweater or jacket over it. A great piece to wear in summer and also to transition into fall. Also, it is so easy to accessorize because it is a neutral.
4. Chambray Midi Wrap Dress – I always love a wrap dress! I have this dress in the maxi dress design from last summer, and it is such an easy staple to have in my closet. I really like the different length of this dress- the midi length is also nice for summer and for leading into fall. Accessories can be most anything you choose- I especially like pairing red and green with chambray- but anything from pink to brown will look fantastic.
5. Gingham Flutter Sleeve Shirtdress– this one is a showstopper. The color and the style are gorgeous- and top it off with the comfortable fit for a perfect dress! This would make a wonderful dress for a special occasion. I love how flattering the flutter sleeve is and how cheerful the entire look is.
6. Eyelet Print Midi Dress – This dress is my favorite for the summer from Draper James. The eyelet makes it! It is such a beautiful combination of color, print, and fabric. The design is so feminine- it feels more like a luxury item but is actually in the affordable range.
8. Circle Dress with Dots– I have always liked the fit of the circle dresses at Draper James. The price is under $100 which is also a plus. They are easy and breezy for summer while helping us feel pulled together. Here is one of the fun patterns for this summer…
9. Linen Wrap Dress – The coolness of linen combined with the wrap design puts this dress on my list of favorites. I really like the blue and white stripes that give the dress a classic look and make it perfect for summer after summer.
10. Wide-Leg Chambray Pants– These pants feel like lounge pants but look polished and poised. Pair it with your favorite white top or pair it with a print…the pants go with so many different tops. They are also on sale!
11. Just for kicks… Sotheby's Gustav Carroll Cherub Mirror ~ I love finding a splurge piece that is fun to dream about…I have been working on decorating our house and this popped into my feed. I love antique mirrors (not to look in, but their shape and design and details). If you are feeling fancy, this mirror is gorgeous! If you snag it, please send me a photo of it! 🙂 It is currently half price but still pricey.