There is something special about being on a boat in the water, but add some of your family and friends, and it turns into an extra-special time together! I was so happy to have the chance to sail the Nantucket Harbor on the cutest boat called the Minke. Minke is owned by the Perkins Family of Shearwater Excursions. This easy-going boat party turned out to be such a collaborative effort, and I can't wait to show you what was created for the fun cruise around the harbor!
The first thing I noticed about the Minke was its red and white stripe top- she is a beautiful boat that is perfect for a small group or a big celebration! I was thrilled to work with Rachael of Shearwater Excursions to arrange a beautiful night on the water in Nantucket Harbor. Our family friends, Lance, David and Thomas, joined us on the sunset cruise. Our cruise was scheduled for an hour and a half, and it started at 6:00 p.m. Knowing that we would all be hungry, Lance and I set out to find appetizers that would be perfect to serve on a boat. We decided on a charcuterie board so that it would cater to a variety of tastes with different cheeses, meats, fruits, veggies, breads, and crackers.
The boat is named Minke after the owners' favorite whale that they see on their trips with their company, Shearwater Excursions.
Because Nantucket history centers on whaling and because of the name of the boat, I really wanted to make the charcuterie appetizer in the shape of a whale.
To make the whale shape, I first outlined a whale shape on a piece of paper and cut out the shape. Next, I placed the paper shape on a wooden cutting board (or you can use a platter of your choice). I put cream cheese in a Ziploc bag and let it soften a little bit. When the cream cheese is soft enough to squeeze from the bag, snip a small hole in a bottom corner of the bag. Squeeze the cream cheese from the bag as you would frosting from a frosting bag. Outline the whale shape around the paper and then remove the paper from the board before adding the food to the whale shape. Next, Lance and I used blueberries to define the shape of the whale by placing them in the cream cheese. We ended up with two rows of blueberries around the entire whale shape. The next step was to fill in the whale shape with crackers, cheese, sliced meat, fruits, and vegetables. Lance is really great at making charcuterie boards, and he says the trick is to group like items together. Make it visually appealing by stacking the items in interesting ways. Lance worked his magic on placing everything just so. We added fresh herbs to different places around the board- and we used 2 small bowls to mimic the eye and the spout.
I placed a customized wooden fork in the center of the tray for easy pick up and had several others on hand, when needed. The forks were made by When I Was Your Age on Etsy and were purchased in town at the shop named ACK 4170 (those letters and numbers represent the airport call letters and longitude/latitude of Nantucket.) The cups, straws, and plates were also from the same talented ladies- the plates were boat shaped trays and they all had the pattern with red and white stripes. And, the flowers were straight from the yard! David so kindly cut and arranged the hydrangeas. The different colors of the blooms are so gorgeous- I love them mixed in the same arrangement.
I can't tell you how much I love the Nantucket Basket ice bucket that Maizie Clarke sent me while I was on Nantucket. It is so beautifully hand painted and mimics the weave of a basket so perfectly. The ice bucket is made of porcelain with a woven handle. The top is also a perfect match to a Nantucket Basket. It is so well done by Maizie! We debated on using it for ice or fruit, but, as you can see, we used it as a vase to hold the beautiful hydrangeas. I will link you to the ice bucket here so that you can have one, too (also-the last time I looked, it was on sale!)!! Before we climbed aboard the Minke, I snapped a few photos of the flowers and bucket on the Straight Wharf dock…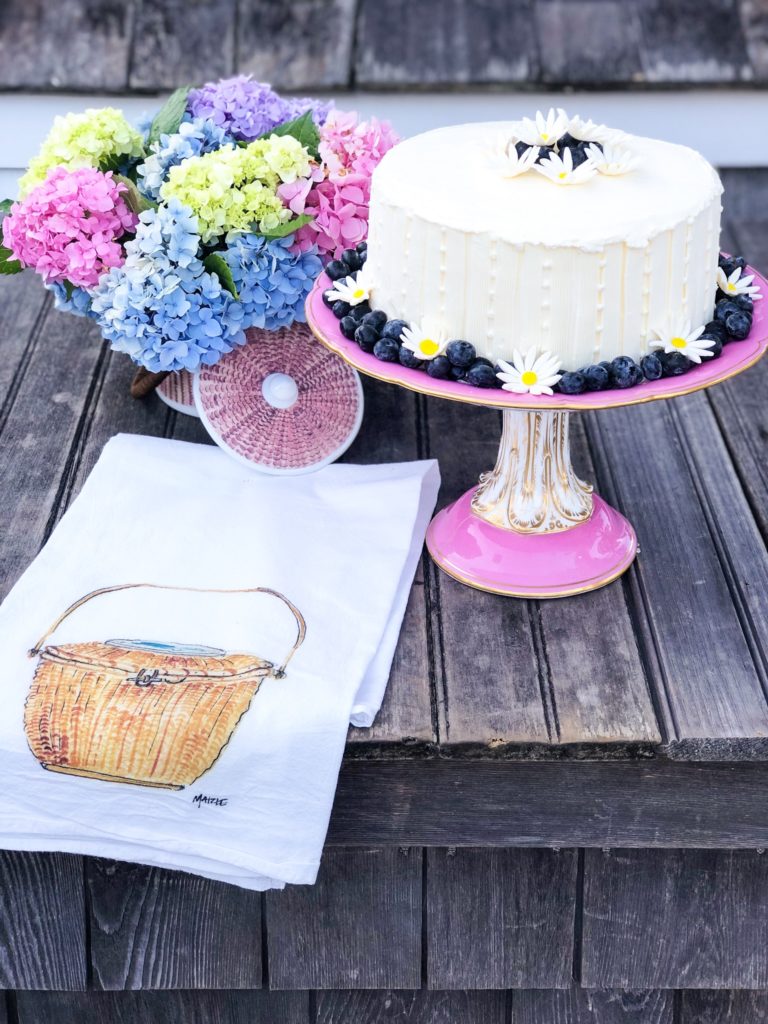 And, that fantastic bar towel is also by Maizie Clarke! Maizie hand-draws each piece of art and then creates beautiful items for your home. I really love being able to use these towels in our kitchen, and I am so grateful to Maizie for such a thoughtful gift. I will enjoy these for years to come!
And, I am really loving the cake stand that Lance picked up at the Hospital Thrift Shop (all proceeds go to the Nantucket Cottage Hospital) on Nantucket. I learned the hard way that if you see something that you like, you better grab it quickly! I am glad that Lance snagged this beautiful pink, blue, white, and gold piece as his souvenir from his trip. I may have to ask to borrow it sometime! 🙂
The gorgeous cake is from 45 Surfside Bakery and Cafe on Nantucket…they were so kind to create a cake with daisies to mimic another island favorite. Daisies grow wild around the island- I have always loved them lining the bike paths- and so we had a beautifully decorated white cake with fondant daisies and more blueberries!
After Captain John invited us all onto the boat, he set sail around the Nantucket Harbor and gave us a narrated tour of the different landmarks and boats. It was so fun to hear his stories and interesting facts- he was a great host and captain!
To go with our cheese/ charcuterie board, we brought along some Prosecco, juices, and waters. We were treated to these fabulous MINKE acrylic wine tumblers from The Preppy Stitch!
The Preppy Stitch is owned by Gabrielle Rogers- she and I met at The Southern C Summit in Sea Island this past February. It was so surprising to find that we had a Nantucket connection! I was thrilled to get to see Gabrielle while we were both on the island- and so excited to know that Gabi could whip up these customized glasses for us just for our harbor cruise! I love how they turned out with the shape of the island and the name of the boat! We gifted a set to the Minke, so be sure to look for them if you charter a cruise on this adorable boat!
Lance and David enjoying a little wine and charcuterie while Captain John guides us around the Harbor…
The views from the boat are so beautiful – it is fun to be up-close to the yachts and sailboats that are docked and moored in the Nantucket Harbor. It is also so relaxing and calming to just enjoy the breeze along with friends, family, and food!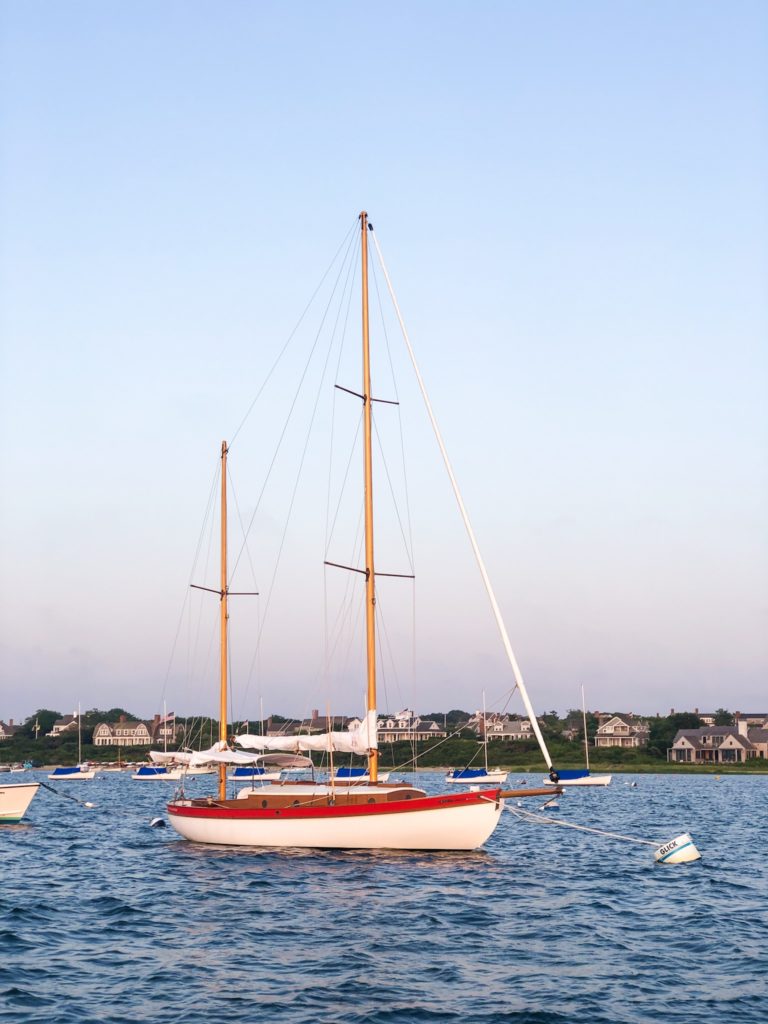 We chose the Sunset Cruise for our adventure around the harbor, but Shearwater Excursions has many options to suit different interests.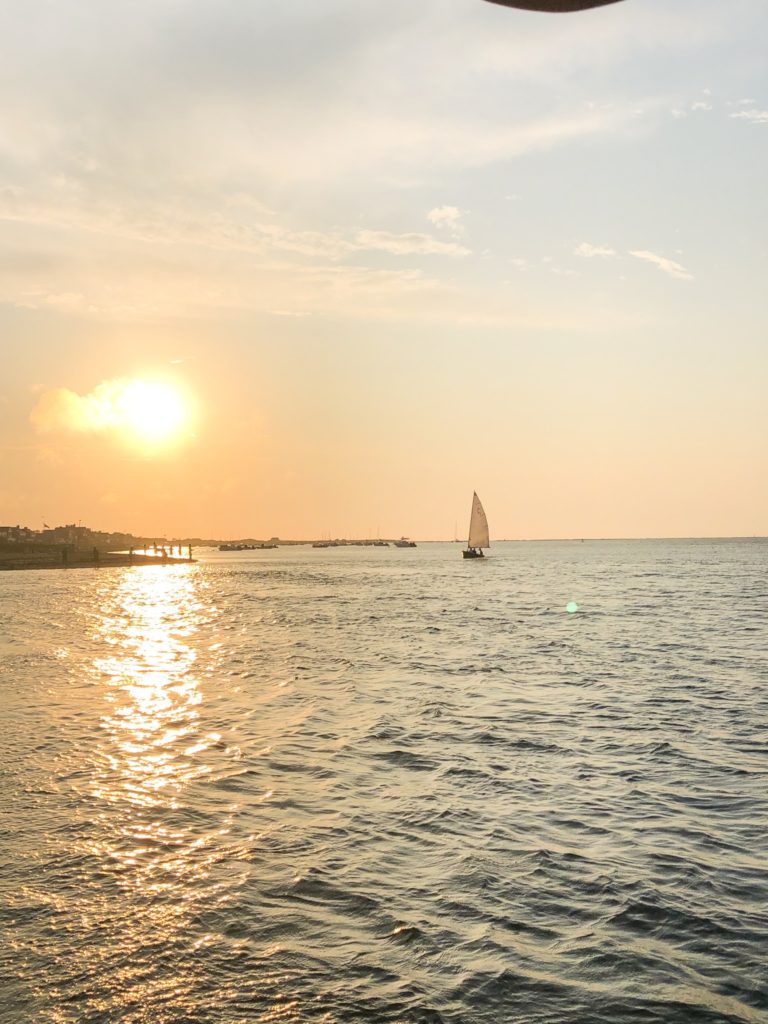 When you book with Shearwater, you can choose from a variety of options to help you see and experience Nantucket from the water.
Nantucket Harbor Cruise Options
For the younger crew…I would suggest the ice cream cruise or the children's fishing cruise. For the ice cream cruise, Shearwater provides the ice cream and offers a narrated tour of the Nantucket Harbor. My daughter has already said that is the one she wants to do next year. 🙂 . Such a perfect way to let the kids enjoy a fun boating trip! The cruise lasts 1 1/2 hours.
If you are interested in seeing whales, Shearwater Excursions offers a Whale Watching trip- it is a 6-hour-excursion with the most breathtaking sightings (the whale sightings are guaranteed)!
A Seal Excursion is another fabulous option- it is also an eco-tour and so you learn so much about the ecos of Nantucket. You see many, many seals on this tour.
A Sunset Cruise is probably my absolute favorite- sunsets are always special- and they are made more special by being on the water with Shearwater's Minke.
The Cocktail Cruise is quite popular- many celebrations are hosted on this cruise with Shearwater. What a fun way to toast a bride-to-be, a birthday honoree, an anniversary, a new job, or other exciting milestone. All passengers must be 21 or older on this cruise.
Shearwater also offers a clamming trip- learn something new or go dig for dinner! This sounds like an adventurous trip- I would love to give it a try!
For you history buffs, take the Whaling History Excursion and learn about Nantucket's robust whaling days. I am always fascinated by the courage of these captains and sailors who struck out to find whales in so much unchartered territory.
You can also explore up the Harbor with Shearwater Excursions- they offer an eco-tour and they teach about the ecosystems around the island and how best to protect and preserve them.
Private Charters are a really fun option for a Nantucket Harbor Cruise- these adventures are wonderful for family reunions, college reunions, wedding parties, birthday parties, anniversary parties, corporate parties, and more. You can work with Rachael to plan what you would like to host for your private charter. This one has an endless amount of options!
Shearwater has been recognized by Yankee Magazine and the New York Times for the services they provide their customers. I can tell you from experience, they are a wonderful family company with a heart for maintaining a healthy home for sealife while helping visitors to the island enjoy and appreciate the beautiful place we find so appealing and charming.
Cheers to the Perkins Family for offering so many wonderful ways to enjoy Nantucket- and for treating us to such a wonderful night on the Minke! I love making memories that are special and unique with each trip! Thank you!
You can read more about our Nantucket adventures here, here, here, and here. Enjoy!
Cheers and XO,
Lydia