Not too long ago, Parker Kennedy Living hosted a live video on Instagram to share how to make floral arrangements using flowers, greenery, and citrus. I videoed the lesson and took photos while Lance and David worked on creating the arrangements. So many people fell in love with the loving cup that he used on his cocktail table shown below…
After receiving so many comments and messages asking to know more about the "trophy cup" and how to find one, I suggested to PKL that we host another video sharing more about vintage and antique loving cups. They have a wonderful history, and they can be used for gorgeous displays in your home.
While Lance and David headed to Saudi Arabia to work on a design project, I headed to antique shops and scoured for loving cups. I found so many beautiful options, and really enjoyed the hunt. I also developed a new appreciation for those who find antique treasures for a living- it is fun but also tiring! Lol! I was surprised at how exhausted I felt after searching in several large antique shops- but, at the end of the day, you realize how you just spent your entire day walking!
I was pretty excited about my haul after a week of hunting, and I couldn't wait to show Lance. We had decided we would share how lovely they look grouped together and on their own. We had a wide variety of sizes, shapes, and ages of loving cups- and it was so much fun to put all of this together to share with all of you!
Originally, I was focused on finding loving cups that were the size of the one that Lance and David have on their cocktail table. I quickly realized that it was going to be harder to find that exact look. I am glad that I shifted my focus, because finding the smaller versions proved to be really fun. I loved reading the engraving on each one! My absolute favorite said, "Girl of the Year 1967".
I also really loved finding a silver ice bucket with two handles that offered the same look and feel of a loving cup. It looks beautiful paired with a bronzed loving cup filled with roses…
Loving cups have a long history of being used for special occasions, and they symbolize unity. With two handles typically placed on each side of the cup, the loving cups represent a union of marriage. The couple would each drink from the cup to signify the union of marriage. Throughout history, loving cups were held in high esteem as they were passed down from generation to generation in families.
Because of the special meaning of loving cups, the shape also became a universally used shape for trophies. Finding antique trophies and awards was a treat- I could imagine the life each one had touched along the way and appreciated how special it was to the recipient at one time. It made me want to keep them all and give them a place of honor in my home. 🙂 The trophy cup below on the right became one of my favorites…
As you can see, Lance and I used cut tulips (I found the tulips at Trader Joe's) for the loving cups- but we also potted mini plants inside of the loving cups. Lance brought moss to use to cover the soil and to give the floral arrangement a polished, finished look.
In the live video that we did, we shared how to style a champagne bar cart. We added fruit, appetizers, and cookies to go along with the champagne. We discussed cheeses that pair well with champagne- along with smoked salmon.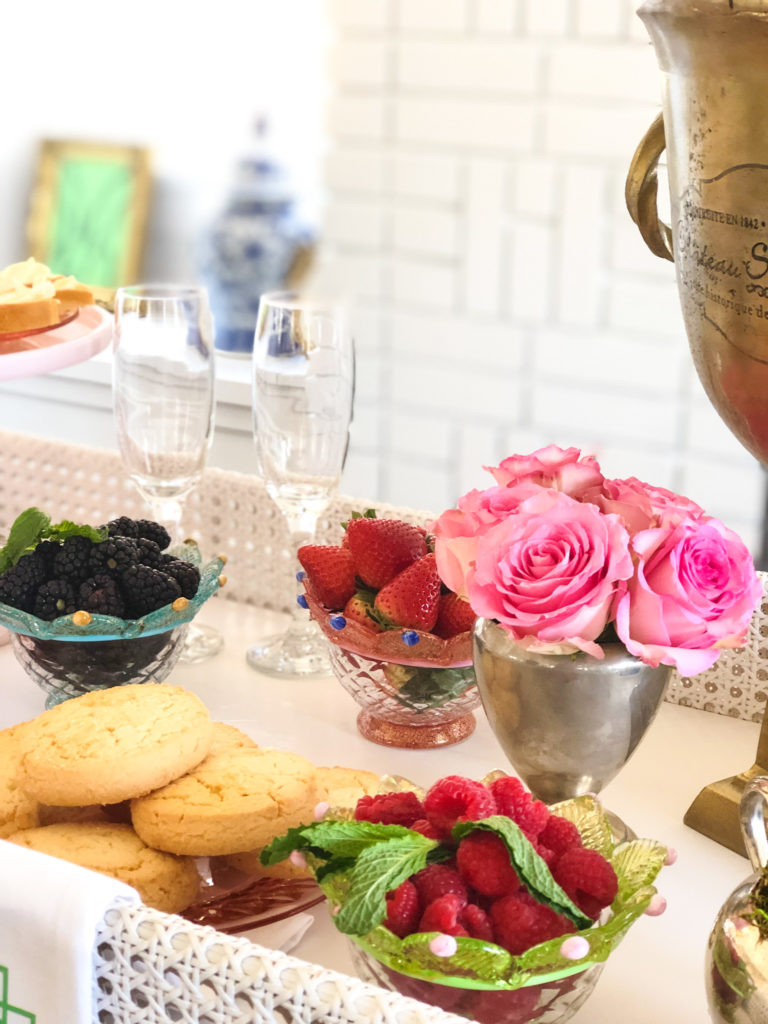 Below, you can see the small trophy that we used for the tulips- I think that would make such a unique bud vase for a desk, powder room, or other small space. It adds character and is a conversation starter, for sure!
Lance added the tea towel to the cart, and I love how it finishes off the bar cart display. Such a simple detail can add so much- just like adding a bow to the top of a package.
Originally, I had not intended to keep the large brass loving cup champagne bucket- but after using it, I couldn't give it up! I have loved it ever since and I have used it over and over. I often add plants to it when I need it for something other than an ice bucket.
Below, you can see a closer view of the inscription from the champagne company. It is a beautiful piece, as they all are. I love having the large and small versions of loving cups placed around our home. I hope you have also found some interesting ways to use them in your home, too.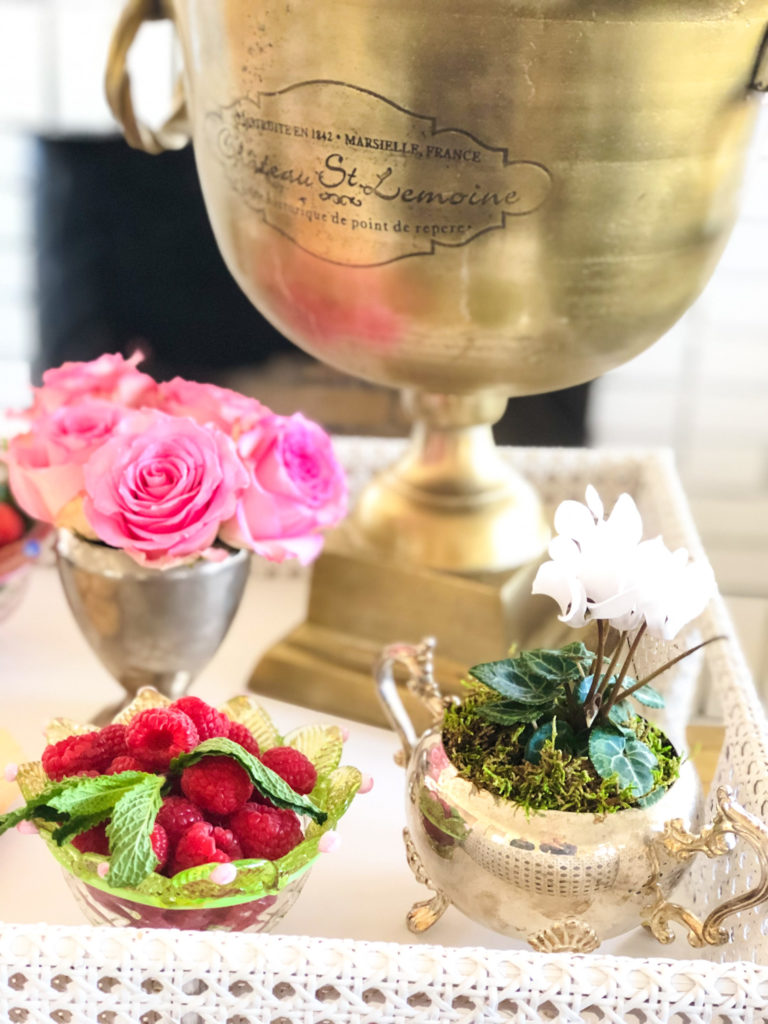 For more photos and ideas on setting up a champagne brunch and tea serving cart, see the sister post to this one. I kept going with ideas after Lance and I finished this set-up. I would love to know what you think of loving cups/trophy cups!
Cheers xo,
Lydia