Are you guys ever wowed by all of the creativity that is out there for us to enjoy? I am in awe every single day at the talent and creativity that is apparent when I scroll through social media, flip through a magazine, or visit a website. My friend, Lance, is one of those talents that has an eye for creating beauty that will make you want to stop and stare.
He and his partner David Ecton are the talented men behind Parker Kennedy Living- together they create and install incredible interior designs. And, as often happens when you ooze creativity, Lance stumbled upon a way to pour his talents into a custom product that resonates with his fans. A fondness for the design, shape, color, and overall beauty of vintage jewelry led Lance to create custom wreaths that are chock-full of his vintage jewelry finds.
This phenomenal wreath is inspired by Tiffany. I am amazed by the loads of baubles, jewelry, and other objects that are meticulously placed throughout.
As you can imagine, Lance stays extremely busy around the holidays as he customizes each wreath for each order. When asked how he does it during such a busy time, Lance says, …"I love making them because they are all so different- and I love to add tons of details. It is almost therapeutic for me to make them."
As word spreads about these magnificent wreaths, demand for the wreaths keeps growing. Parker Kennedy Living is currently setting up a permanent workshop/studio at their office to accommodate the needs. Soon, they will be able to offer them year-round.
You never know how each one will look when Lance starts- which is what makes them so unique and special. Some of the wreaths are youthful and sweet and some are sophisticated and sassy. They have personality, style and beauty that draws you in for a closer look each time.
Since I first saw the wreaths, I have told Lance that I would love to do an "art installation" of them in my house- ha! That's how much I love them. I find them so interesting, and I have seen how much thought and time is spent on each. Recently, Hoffman Media reached out to Lance to ask about doing a feature on his exquisite wreaths. I was excited when Lance asked me to photograph them for the magazine- that mini installation vision was actually going to happen. The image below is the look that Anna Hartzog, at Hoffman Media, wanted to achieve. The wreath over the bar cart is a "Gucci" themed wreath that Lance made and gifted me several years ago…
And this was another option that we played around with while styling the wreaths. I really love all of the colors that combine in this photo…
Hoffman Media requested traditional Christmas colors, and so Lance went to work to create the most beautiful collection of wreaths in red, green, gold, and silver.
We had fun adding the wreaths around our house although we placed the wreath over the stove only for the photo shoot. We definitely don't suggest putting the wreaths where there is heat or a flame. 🙂
The monochromatic colors are gorgeous in these wreaths and show-off Lance's ability to create a variety of looks.
There is a touch of new to keep the wreaths current ~and lots of vintage placed with care to tell a story within each one. The wreaths make your mind wander to the history that each holds while enjoying the present-day beauty of it in your own home.
I typically lean toward more gold than silver at Christmas, but this silver wreath has a magic to it. I couldn't stop photographing it because it was so layered with details. My favorite piece on this wreath is the oversized vintage hair barrette.
I also find the mix of gold and silver on this one to be really striking. It feels so icy and wintry…and gorgeous!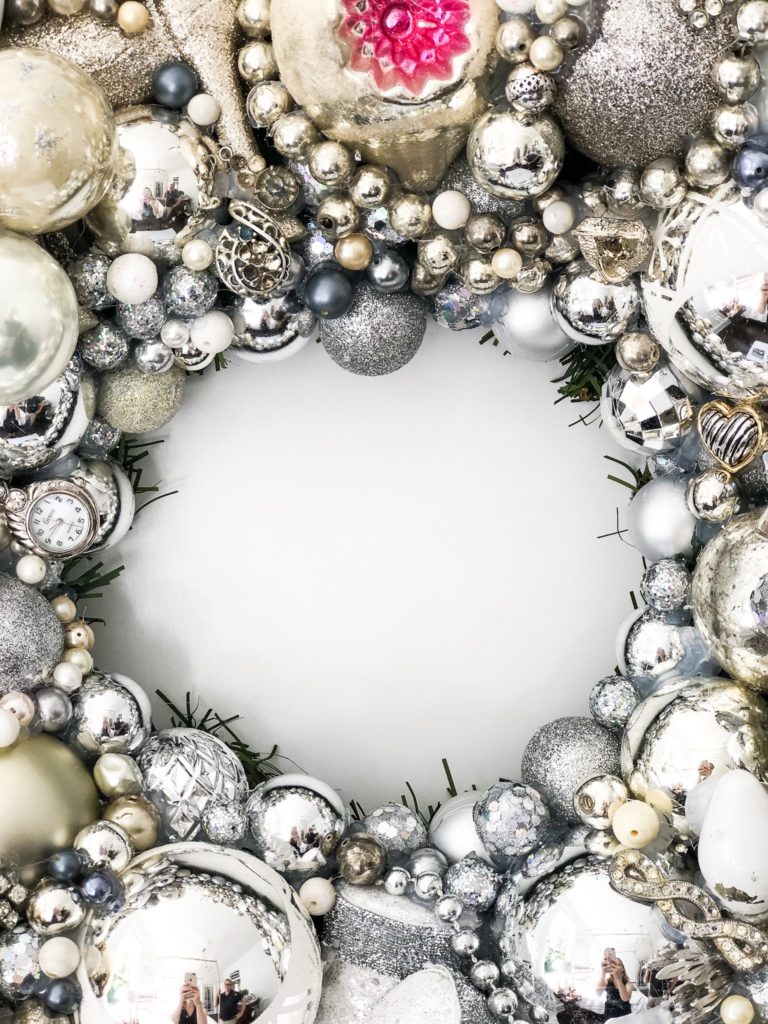 Lance created a green wreath that is traditionally festive, but he took it a step further with the PKL signature twist. The wreath overflows with baubles and personality. The personality that each wreath takes on is a reflection of Lance's own personality and his enjoyment of nostalgia, whimsy, and sophistication.
Can you believe all of the objects that are put into the wreaths? These photos of the green wreath show a small portion of the wreath, but you can see how much time and effort goes into each one. The combination of textures and colors is amazing (and I especially love that Lance put a spool of green thread on this one- it balances all of the shimmer and is completely unexpected!).
And, below you can see the feature page of the 4-page spread on these dynamic little masterpieces in Entertain and Celebrate Christmas Edition…
Below is a wreath that has a little bit of a different feel in that it has lots of vintage toys placed throughout the ornaments and jewelry. One of my favorite places to hang this wreath in our home is over the bed in our guest room. The bed is a four-post canopy, and so I used a wreath hanger on the top bar- you could also use a sturdy ribbon.
Lance also has a penchant for creating very playful wreaths out of the most unexpected item- Barbie dolls! His Barbie-themed wreaths have become such a huge hit. The novelty and beauty of them is too hard to resist, and they sell out quickly. You will see why below…they are a stunning conversation-starter!
Notice, below, how Lance found a brunette Barbie and incorporated it into a Barbie wreath made especially for Patricia Altschul. I think the Barbie theme might be Lance's favorite wreath that he makes. I seem to think everyone he makes becomes my new favorite. Lance says that no matter the theme, his favorite part of making them is the hunt for all of the vintage and antique pieces that he uses. Farther in this post, you will see some of his newest themes- and you will see why it becomes so hard to choose!
If you follow Parker Kennedy Living on Instagram, you will notice that people often remark that they would keep the wreath up year-round. It is understandable how you would want to enjoy them all year- each one is an instant mood-booster like a dose of sunshine!
How funny is that Lance found and incorporated Barbie and Ken together in the wreath below? Do you also notice that he often includes monogrammed jewelry or ornaments? I love how he adds those in when he knows the recipient's initial.
And, if you prefer traditional red for Christmas, Lance can even make a Barbie wreath in red! Look at those fancy sleeves!
Another hugely popular wreath that Lance has created is his Chanel-inspired wreath. This art piece would be beautiful in a home year round. I can imagine this in a dressing room, vanity, bedroom, or office. High couture that never goes out of fashion, for sure!
Another one of Lance's newer designs is this "Under the Sea" theme- I can imagine how beautiful and unique this would be in a seaside home. From Palm Beach to Newport to LA, this beauty adds Christmas magic like no other decoration. It is one of my many favorites!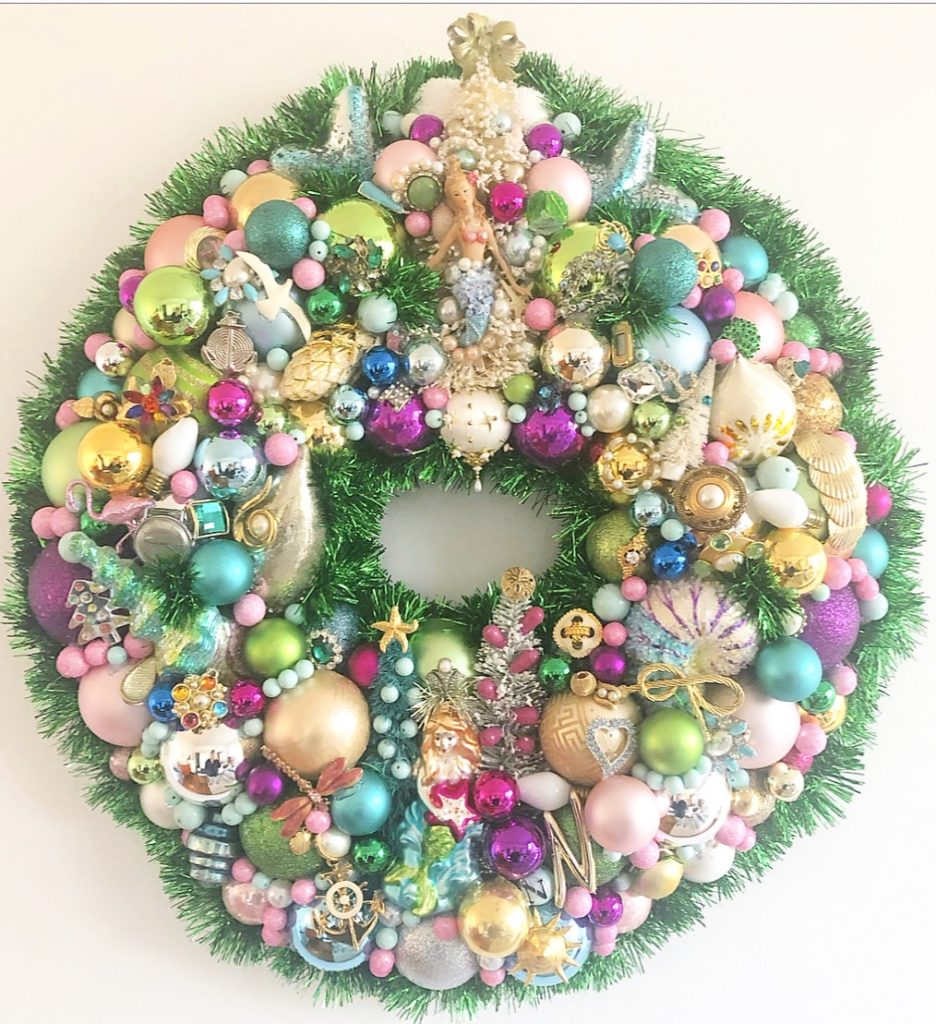 Whimsy, whit, sophistication, glam, glitter, and a whole lot of thought and design talent go into each one of Lance's creations. Lance says that he loves searching and hunting for all of the vintage and antique pieces that he uses in each. "I am literally on the hunt year-round- always looking for the perfect pieces that I know will work", says Lance.
And, I would definitely say it shows!!
One of the most common questions is how to order…
You can order directly from Parker Kennedy Living.
You can also order through direct message on Instagram at ParkerKennedyLiving and PKLthecellar
Be sure to pick up your copy Entertain and Celebrate to see the spread on Parker Kennedy Living's Wreath!