A champagne brunch is such a simple and beautiful way to celebrate or entertain. I am going to show you the basics of setting up an area for serving champagne (and a non-alcoholic version, too). I will also share one of my favorite champagne cocktails in case you prefer to take it up a notch.
For starters, use a silver or gold/brass ice bucket as a focal point for the champagne drink station. Here, I used a vintage brass loving cup / trophy cup ice bucket. I think it is always interesting to use a unique serving piece in the center. You can also use a garden planter or cache pot to hold several bottles of champagne at a time. Another striking alternative is to group several (at least 3) coordinating single ice buckets as the focal point and elevate them so that they are different heights.
Secondly, use a serving tray that gives the occasion an extra-special feel. Here I used one of my favorite silver trays and loaded it with simple champagne flutes. The metallic and glass complement each other nicely and play off of each other with a little bit of shimmer. To create a fun, celebratory vibe, add in a playful sign or saying such as the "Press for Champagne" button below…
You could incorporate the playful message through printed napkins, or a garland/banner that fits nicely on the drink area.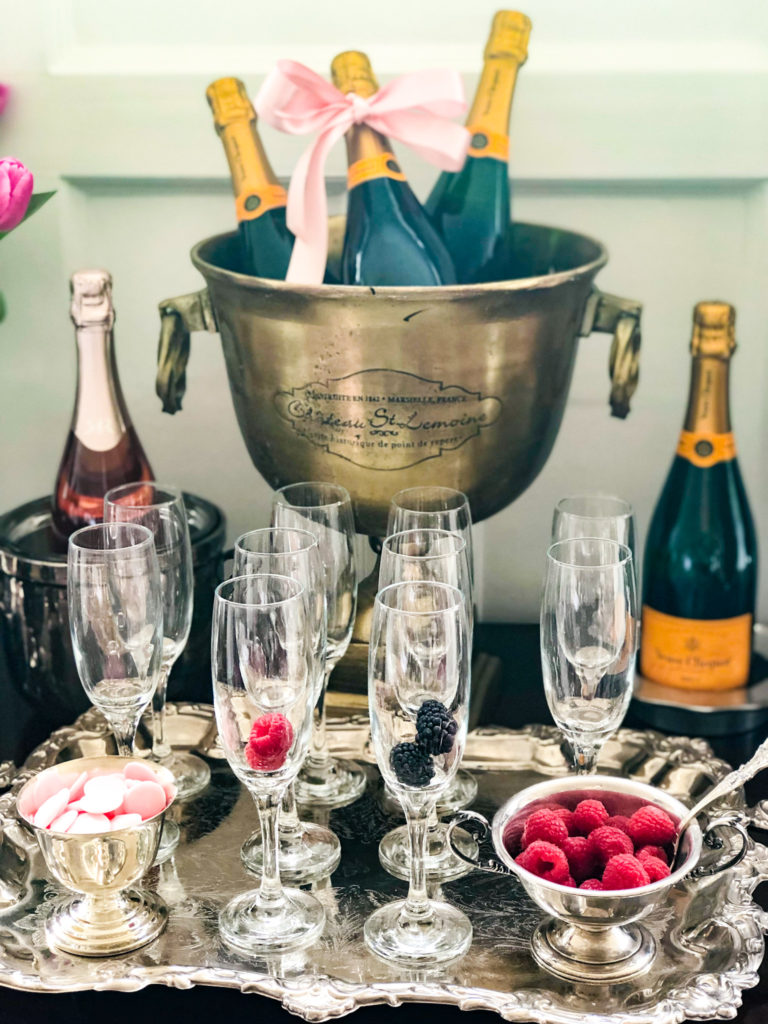 On the tray, use a loving cup to serve raspberries, blackberries, or blueberries. Remember to add a spoon so that the guests can add the berries to their champagne glasses. Above, I also added simple pink candy melts in a silver loving cup to add an unexpected treat that also was a pretty shade of pink! 🙂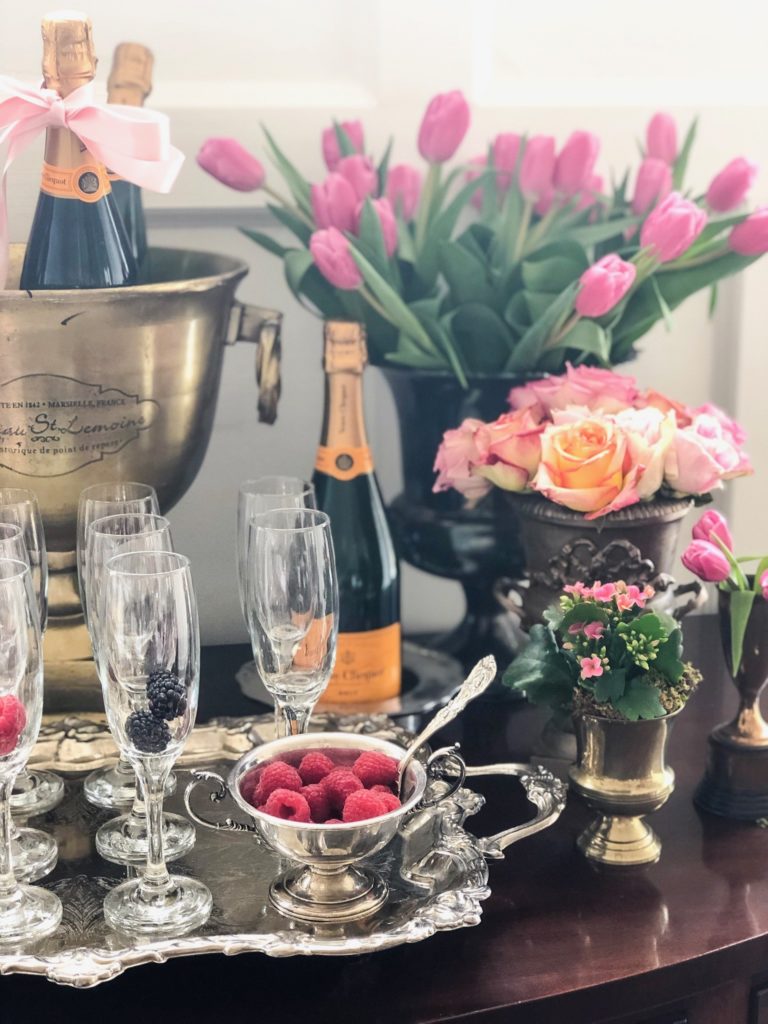 I surrounded the champagne and tray of glasses with flowers. Parker Kennedy Living and I put together several loving cup container ideas, and I used those to dress up the champagne bar. I kept it simple by setting up the champagne on the sideboard in our dining room- it has an easy flow of traffic and is large enough to serve more than one person at a time. The loving cups full of flowers give it a beautiful feel- and is a perfect way to brighten up a winter day.
Continuing with the loving cup theme, I set up a hot tea service (see my favorite tea here) on my bar cart beside the champagne bar. It is always a thoughtful gesture to serve non-alcoholic options, even at a champagne brunch! The silver urn serving piece holds the hot water and makes a great centerpiece.
Around the urn, I added all of the essentials for hot tea- the tea itself, honey sticks, sugar…
Remember to offer several teacups and saucers for the guests to serve themselves- along with a spoon for stirring. Colorful macarons add another bright spot to a wintry day and pair nicely with tea.
As you can see, I also placed a pretty bottle of water on the serving cart and glasses are housed below. Simply add cocktail napkins and flowers, and you are all set!
Setting up a bar cart / drink station for a champagne brunch doesn't have to be difficult or elaborate. If you elevate the simple necessities and use items from around your home, you can design a beautiful setting for drinks in no time. One last little tip… remember to add a tea towel or bar towel to your drink station. It will help with accidental spills (which always happen) and will make your guests feel more comfortable to have a towel close by if needed when dealing with drinks. That way, no one has to embarrass themselves over a spill that needs a lot of attention. See below for my suggestions for champagne cocktails and favorite teas…
This is a simple way to add a little something special to your already special champagne!
Champagne Brunch Cocktail
Ingredients
Chilled Champagne
Sugar Cubes
Lemon Peel
Instructions
To make, first soak the sugar cubes in the bitters. I put them on a plate or small dish and let the sugar absorb the juices and flavors.

Peel a small strip of lemon. Remove any pulp. Twist the lemon peel and hold for a few seconds until the peel holds the twist shape.

Place sugar cube in bottom of champagne flute.

Top with chilled champagne.

Garnish with lemon twist.

Serve immediately.

Enjoy!
Cheers xo,
Lydia
As an Amazon Associate, I earn from qualifying purchases.