Everyone seems to be filled with Christmas and holiday spirit right now!  I love the energy that the anticipation of celebrating Christmas brings and the joy we find in giving gifts to others.  I see so many ideas each day that would make unique gift ideas, and I wanted to share some of them with you.  I absolutely love shopping with small business owners and trying to support them as often as possible.  Here are a few of my favorites!
I'm a big fan of Proper Pepper Pimento Cheese, which is an award-winning pimento cheese from Georgia.  My favorite is the jalepeno pimento cheese on a cracker topped with their raspberry pepper jelly.  This is a great gift!  I can speak from experience because I received it as a gift and have been hooked ever since! 🙂  Proper Pepper is easy to order and ships each week on Mondays, Tuesdays, and Wednesdays.  You can even add a beautiful spreader if you want to really make someone feel special and complete the gift.  It's my favorite pimento cheese, and it can be delivered right to your door year round.  I'm thinking a monthly delivery would be just perfect!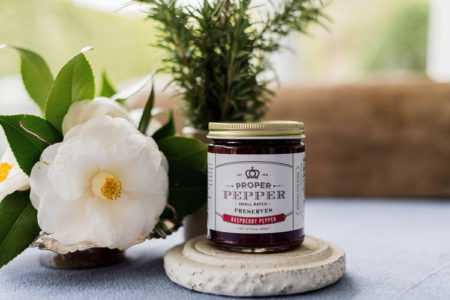 2.
Parker Kennedy Living's Shop- The Cellar ~ The gorgeous finds that you get when shopping at Parker Kennedy Living are always a treat.  Each week there are new pieces and most are vintage and antique pieces- which means they go quickly!  Items from Parker Kennedy add charm to your home and create an elegant and sometimes whimsical feel.  Sprinkled into the antique treasures, you will occasionally find new pieces for the home that keep everything fresh and modern while still being timeless.  This plaid wastebasket is a perfect example.  I could see this being a perfect addition to my son's room~ or saved each year to only use at Christmas.  I could also see myself using it as a decorative planter or storage container during the holidays.  The same pattern is also available in a tissue box!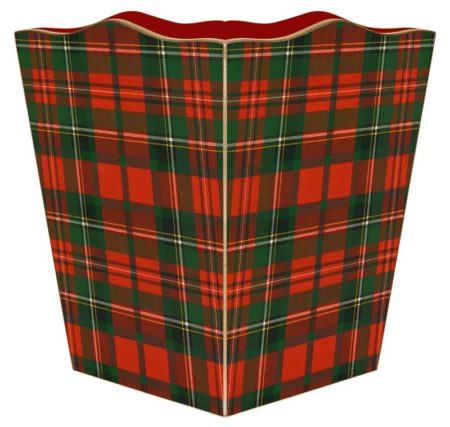 3.
The Tiny Tassel is one of those shops that I could fill stocking after stocking with all of the cute earrings and small accessories. But, I also love the wrap skirts that are offered at The Tiny Tassel!  Look at how fun and unique this one is- there are several different patterns~ and I love how wrap skirts work well on so many different ages and body shapes.
4.  If you are looking for a cute gift idea for a hostess or a whiskey-loving friend or husband, give these cocktail napkins as a token of holiday cheer- they are also from The Tiny Tassel.
5.  This happy Gingerbread Man tablecloth from Loralee Lewis is just the cutest way to dress up a table!  I love it as a topper for a larger table, for a smaller kids' table, or for a dessert table.
6.
Another Christmas keepsake gift idea that can be enjoyed year after year is a pillow by Loralee Lewis customized with the family name.  I would love these for our porch or family room.  They would also dress up the bench seat in our mudroom in the prettiest way.  I think giving a special holiday pillow is a perfect way to spread holiday happiness.  The classic, traditional design is timeless.
7.  A fabulous and fun (and unique!) stocking stuffer or hostess gift idea is a set of acrylic stir sticks with designs by Giddy Paperie.  Acrylic Sticks x Giddy Paperie is a combo that yields functional stir sticks that look great and can be washed and reused again and again!  Such a great gift for someone who loves pretty details! Shown below is the tulipiere design, but there are so many different designs to see!
8.
Acrylic Sticks created the gorgeous stir sticks and also has a huge selection of artwork to choose from to suit your theme.  They have lots of Christmas themed sticks as well as year-round stir sticks.
9.
Coffee Table Book by Courtney Allison called French Country Cottage Inspired Gatherings – 
This gorgeous book is a feast for the eyes and looks beautiful displayed on a table or bookshelf.  I enjoy looking through all of the ideas for a rustic and fabulous gathering inspired by the french countryside.  This makes a great gift for those who love beautiful photography, hostessing, and all things french.
10. Another new small business to catch my eye is Sarah Bray Bermuda– I love her sun hats and use of beautiful ribbons.  Sarah also offers adorable bamboo Bermuda Bags with interchangeable pouches, beautiful caftans, and jewelry.Sarah has even developed smaller straw hats for children and they are adorable!  The hats sell out quickly in the summer and so buying for Christmas will be the perfect way to snag one!
11.  Another of my favorite small business ladies is Mae of Mae Wearable Art.  Each piece of her jewelry is handmade and is very recognizable as a Mae design.  There is always something new rolling out and so you will find many choices when you visit. I wear Mae earrings every week and love how lightweight, stylish, and unique they are!
12.  A fabulous new children's line that I want to share is Sun House Children's!  I am in love with the swimsuits that have the most beautiful smocking details at the collar and wrists.  Such a classic look with a gorgeous twist of smocking details.  The first collection is limited, but I recommend signing up for the newsletter to know about the upcoming available styles.  You will also find swimwear for boys and dresses for ladies!
13.  A big item on my wish list is a set of coupe glasses from Estelle Colored Glass.  I can't decide between blush pink or mint green, but maybe I will eventually collect both!  There are different shapes and styles of glasses- even stemless versions.   I love the rainbow of colors and the attention-grabbing shapes.  And, did I mention that she also creates colored glass cake stands? Ah- so beautiful!
14.  For those who love a memoir, consider this interesting book and life story by Mary Marantz… the book is titled, DIRT.  I read it in 2 days and found it to be a great story. I wouldn't be surprised if it becomes a movie!  Mary grew up in a trailer in West Virginia and ended up going to Yale Law School- her story is a moving one!
15.  If you love handmade items, you will adore and appreciate the talents of Susan of For Pete's Sake Pottery.  Susan has a joy of life that comes through in each piece that she she hand paints and designs.  She is another maker who sells out quickly, so remember to order early when she releases her seasonal designs.  I am fascinated by her new Christmas church and house lanterns that she introduced.  She also creates a version in pink that depicts a Christmas Toy Shop.
16.  And, if you want to add a little bit of cheekiness to the holidays, pass out a few of these fun crowns  from Festive Gal for some laughs.  There are so many different "expressions" to choose from that you are sure to find something that will bring smiles to your friends and family.  You can even create a custom saying that you would like!