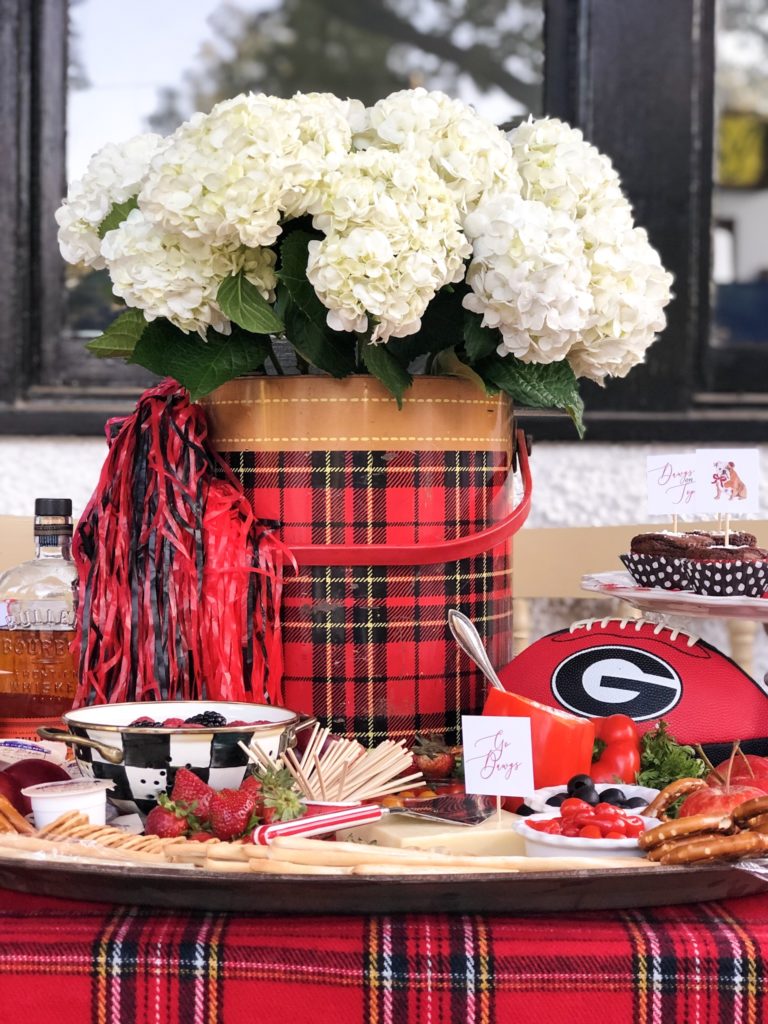 Football Season has always been synonymous with Fall at my house. Growing up, my mom and dad took us to college football games every Saturday. My dad played football in high school and received a football scholarship to Auburn University…and so I grew up knowing and loving football! We had season tickets which basically equated to a load of my childhood memories created with my parents, sister, and family friends. SEC Football is full of excitement- from making the drive to the game and passing all of the other fans on the way…we'd shake our orange and blue shakers at them…friendly car horns would say hello…and lots of exchanges of "War Eagle" and "Go Tigers". Now, as an adult and a mom, I am amazed that my mother packed up a tailgate spread each Fall Saturday and loaded us in the car for the hour and a half trip. I am going to share some of the tips and recipes that I've learned from my mom along with ideas from some of my favorite blogging friends– with hopes it helps you plan your tailgate parties that you host at home or at the games!
GRAZING BOARDS
My mom always had crackers and cheese to stave off any overly-hungry kids (or adults). The typical crackers and cheese dish from my childhood has definitely grown with more options available in our grocery stores. Cheese boards and grazing boards (also known as charcuterie boards) have become all the rage for good reason. You can stack a platter full of delicious options and feed a crowd for what feels like days. After you decide on a variety of cheese and crackers, add in fruits, vegetables, and even deli meats. Group larger, like foods together to start and then add smaller items to fill in where needed. This makes for a pretty presentation and an easy way to see what you may want to replenish (if you have extra).
My mom also always had dips for us eat- you can add them to the cheese board or let them stand out on their own. Below, I am showing you one of my favorite recipes from my friend at Bird's Party…
2. FOOTBALL CHEESE DIP (click for recipe)
For game days, my mom kept it simple by adding in our favorite chips or salty snacks. Sometimes she would combine them to make a party mix, which is always a hit. Snack mixes or party mixes make great tailgate food ideas because you end up with a big batch to feed a crowd- and there is something for everyone in the mixes! Below, I am adding one of my favorite tailgate snack mixes from my blogging friend at An Affair from the Heart...I think I like this one a little extra because it has my childhood favorite~ Bugles! Did anyone else love Bugles?
3. TOUCHDOWN SNACK MIX (click for recipe)
And, this next recipe reminds me so much of my childhood. I just bought a bag of these crackers to make this and it made me reminisce a little. I used to love it when my mom made these- and they are very simple!
4. RANCH AND DILL OYSTER CRACKERS (click for recipe)
Another part of my mom's tailgate formula for success was to have sandwiches cut in half and placed on a platter. She often rotated between pimento cheese sandwiches and cream cheese and pineapple sandwiches. That second combo was such an odd one to me when I was a kid (it still seems a little different to me as an adult), but I loved it. I have always wondered if that was more common than I realize! Now, sliders are a popular choice and they are simple to make, too! Below, I am sharing my friend Courtney's (Pizzazzerie) recipe for chicken sliders…
5. CHICKEN SLIDERS . (click for recipe)
If you like to offer traditional tailgate fare with a twist, check out this brat recipe from Cheese Curd in Paradise, another food blogging friend…
6. WISCONSIN BEER BRATS (click for recipe)
For those of you who like to add a veggie sandwich option to your menu should try out this Po' Boy from my friend, Molly, at Easy Cooking with Molly.
7. VEGGIE PO' BOY (click for recipe)
Side salads were also always on the menu for a tailgate when I was growing up. It differed depending on my mom's choice of the week, but I mostly remember red potato salad being a go-to . My favorite side salad to make for my family is Chick Pea Salad. Everyone seems to like it, and it is healthy and fresh. I make this recipe for lots of occasions -it's a great one for summer get-togethers, too.
8. CHICKPEA SALAD WITH MOZZARELLA BALLS (recipe below)
Chickpea Salad Recipe
Ingredients
3 tbsp olive oil
2 tbsp white wine vinegar
½ tsp salt
2 15. oz cans of chickpeas rinsed and drained
2 small cucumbers, peeled, seeded, and chopped
1 can small black olives, rinsed and drained
1 pkg. grape tomatoes, sliced into halves
1 small package of mini mozzarella balls, gently separated
¼ cup chopped, fresh parsley
½ cup shredded Parmesan cheese for topping/garnish
fresh ground pepper for garnish
Instructions
Whisk together oil, vinegar, and salt in large bowl.

Combine chickpeas and next five ingredients in the large bowl.

Toss ingredients with oil mixture in the bowl.

When ready to serve, garnish with freshly ground pepper and shredded Parmesan cheese.

You can serve in one large bowl or serve individually in small cups or bowls.

Serves 6-8.
If you would like to serve a Chickpea Salad with more fall flavors and colors, try this one by my blogging friend, Gloria, at Homemade and Yummy…
9. CHICKPEA SALAD WITH APPLES AND PUMPKIN SEEDS (click for recipe)
Now that we have ideas for the bulk of the tailgate food, we can talk about dessert and drink ideas…
Sweets such as brownies, or other easy to slice desserts, are always a great choice. They may seem over-used, but you can dress up brownies in cute ways if you want…see these football shaped brownies by Bird's Party…
10. FOOTBALL BROWNIES (click for recipe)
Or, you can do like I did here and bake chocolate chip brownies or muffins from a mix (I use Ghirardelli) and add a cupcake topper…
11. CHOCOLATE CHIP MUFFINS OR BROWNIES
For drinks, I like to make a signature cocktail for those that enjoy a specialty drink. Making a drink to go along with the team colors adds to the spirit of the day. Here I made a red and black cocktail for Bulldawg Illustrated and The Southern Coterie…
12. TEAM SPIRIT COCKTAIL
If you prefer to stick with beer, Bird makes a mean FRUITY Beer Cocktail for something different…
13. FRUITY BEER COCKTAIL (click for recipe)
For non-alcoholic drinks, I like to have a stock of water- flat water, sparkling water, and also a selection of BODYARMOR. My daughter got us hooked on BODYARMOR for flavored water – and we had a chance to sample several flavors when BODYARMOR asked if they could send us a variety of their drinks. I am especially happy with the natural ingredients of the products- along with the electrolytes when needed. Some of those college football games in the south get really hot and active- even for the spectators! Lol Load up a cooler or display the drinks in a spirited way and keep everyone properly hydrated!
14. BODYARMOR (click for flavor choices)
Luckily, we live within walking distance of some of the best match-ups of SEC games. We get to enjoy the excitement of game days and the tailgate food that is part of the tradition. Some people love football simply for the tailgate, and so it is fun to provide a pre-game meal that feeds a hungry crowd. I hope you use these recipes at your tailgate parties and beyond. And, if you would like more football party inspiration, click on these football birthday party ideas, football tailgate birthday party ideas, and pee wee football party ideas.
Thanks for reading and enjoy your game days and parties!
Cheers xo,
Lydia
Disclaimer: I received BodyArmor drinks to review but the opinions and words are all my own. I actually agreed to try more flavors of BODYARMOR because it was already a staple in our home, and I knew we liked it! For us, it is our favorite choice of hydrating drinks.