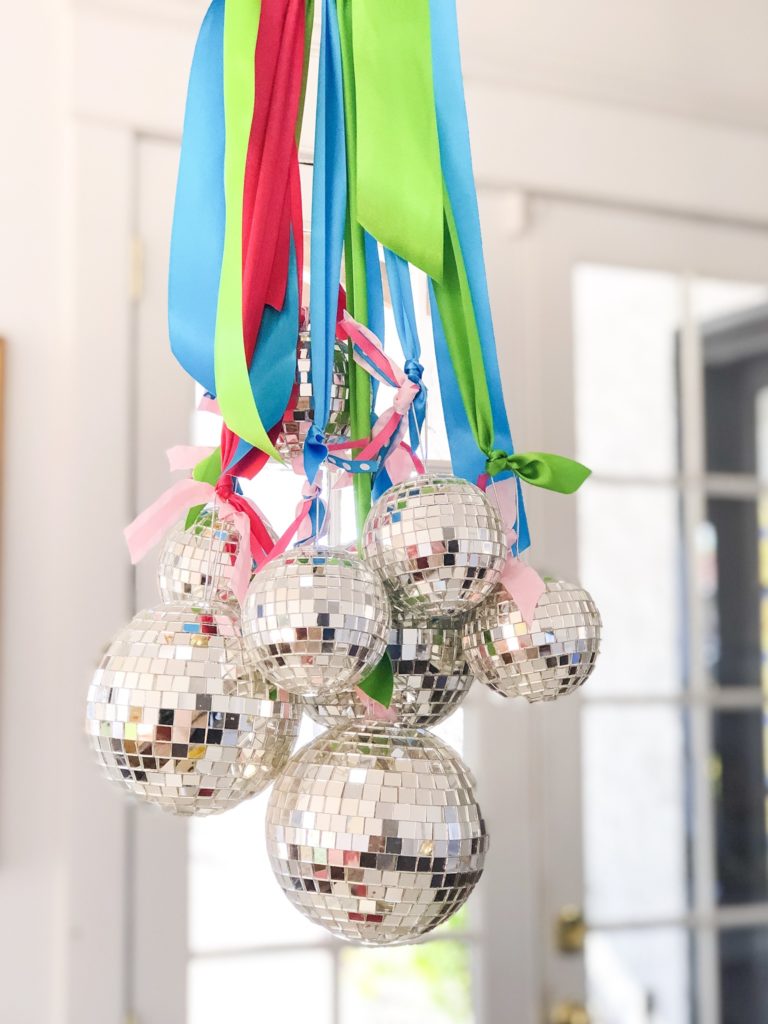 Starting fresh in a new year always feels exciting and worth celebrating, right? There is something special about the end of one moment in time and the immediate beginning of something all new. Although I love a big party, I also love quick and easy ideas to mark a special occasion! Here are some of my favorite quick and easy New Year's Eve party ideas that I enjoy putting together for my family…
Set the scene with disco ball ornaments. This is an easy New Year's Eve party idea that can also be used for other parties (such as dance party ideas and pop-star party ideas) or re-used from year to year. The ornaments shown differ in size and have mirrored glass around them-but sequined versions are lighter and may be easier to find. Either way, they are festive and fun!
Group them together for impact and hang them from a chandelier with your choice of ribbon. Simply tie each individual ornament with a measured amount of ribbon so that the disco balls hang where you would like for them to hang (being sure not to go too low and risk being bumped constantly). The color of ribbon can coordinate with your party colors or you can opt for a monochromatic look and hang with silver or white ribbon.
New Year's Eve Party Food Ideas
It is always fun to add a little sparkle everywhere on New Year's Eve, and the drink and food ideas for your party are no exception! 🙂 When you are ready to pour the bubbly for your guests, treat them to a star-shaped cookie decorating the glass…
To keep this New Year's Eve party idea easy, only decorate the points of the star cookies. This also keeps it from being too sweet with the champagne. I used a sugar cookie recipe from Jenny Cookies, a dot of frosting on each tip, and a pink pearl sprinkle. The small star cookie cutter has been in my collection for awhile and so I don't remember where I found it. If the sugar cookie is too large for the champagne flute, lay the cookie flat on top of the glass instead. Your guests will still love the thought!
If you are like I am and often have kids (or teens) around on New Year's Eve, remember to have some kid-friendly items to serve as you celebrate the new year. This party idea is a hit throughout the year and works well for birthday parties and celebrations, too! It is so easy but so fun! Buy your favorite mini doughnuts and stack them on a cake stand. Add party hat picks to the doughnuts in random places and you are all ready to serve!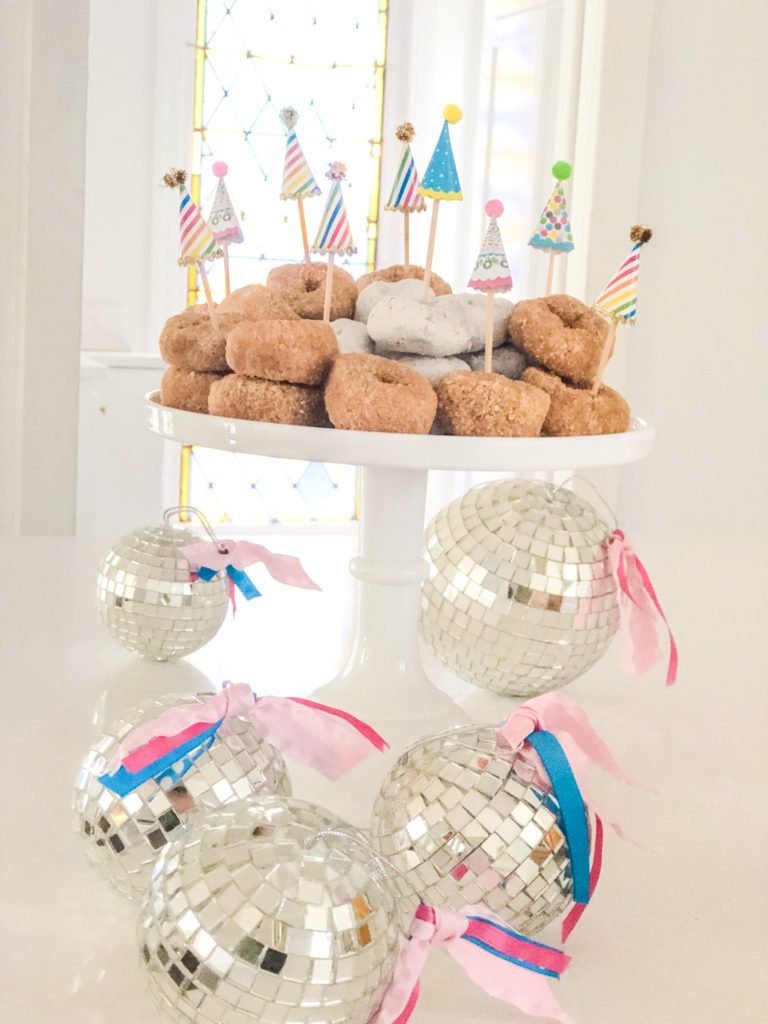 Another of my favorite party ideas for easy kids' party food is dipped pretzel rods. We name these "Sparklers" at New Year's Eve parties- in honor of the only fireworks my parents would let us use as kids! 🙂
See below for a quick video of how I make them…
I hope these simple, quick New Year's Eve party ideas are helpful for making your celebrations a little more fun! If you are looking for a few more ideas to add to your list, see this disco party for more!
And, I wish you the best in the coming year!
Cheers xo,
Lydia