A Milk and Cookies Party is one of the easiest and most fun ways to host a party during the holidays! These ideas can be adapted to be a cookie exchange or a "Sweet Shoppe" party- and it is suitable for a range of ages. I am sharing ideas below to help you celebrate the season and to be able to keep it as simple as milk and cookies…or you can always make it as elaborate as you want to make it!
You could keep this get-together very low-key and simply and literally serve milk and cookies. Let the kids enjoy a game of Holiday Bingo, watch a holiday show or movie, or decorate sugar cookies. If you really want it to be a causal affair, invite your guests to wear their favorite holiday pajamas. I would suggest offering a few savory snack ideas to balance the sweet flavors that you have with the cookies. Serve milk in old-fashioned milk bottles with beautiful labels and paper straws for the prettiest presentation…
If you prefer to take the party up a notch, I would suggest preparing for a cookie exchange, setting up a cookie decorating station, and/or maybe even inviting Santa and Mrs. Claus to the party for photos. Encourage your guests to wear festive holiday attire and give everyone a chance to dress up in their Christmas best. Be prepared with aprons for the little ones if they are handling colored icing and candies. Teenage helpers dressed as elves could also add some fun to the get-together!
Whether you decide to go casual or fancy for your party, set the tone for your guests by having a small display of sweets ready when they arrive.
I especially like the Sweet Holiday paper collection by Loralee Lewis for dressing up the cookie table. The welcome sign has the cutest gingerbread kids depicted along with the gorgeous graphic design and shape. I placed the sign on a plate stand in the center of the table and then displayed beautiful cookies around the sign.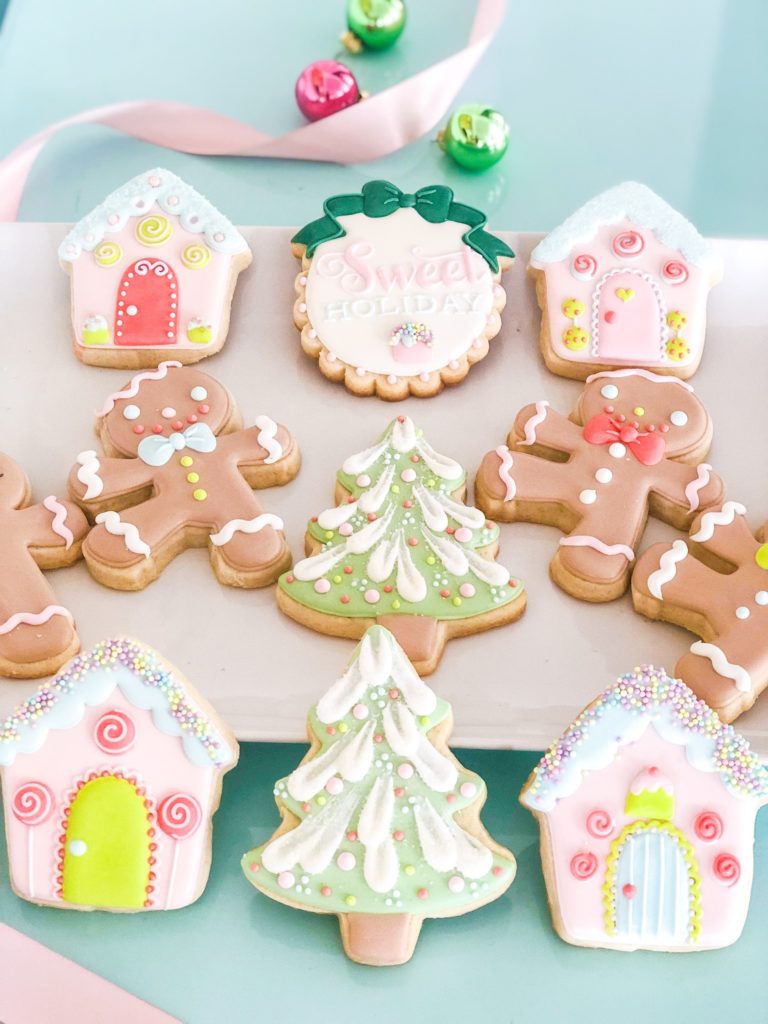 Decorated cookies are always nice to have as a special treat for your guests or for individual party favors. For this party idea, I decided to order sugar cookies decorated as gingerbread men to match the cute gingerbread kids in the paper designs. It would be fun to have gingerbread cookies ready to decorate at the party. This would be the perfect activity for your guests. You could use sugar cookies or gingerbread cookies- whichever you prefer to make (or order). Use cupcake liners, candy cups, or muffin tins to help organize the cookie decorating materials. Roll out a strip of wrapping paper or craft paper to help protect the table and to make clean up easy. Add frosting to piping bags ahead of time- or use zip bags with a small hole snipped at one corner. Your guests will have fun trying their hand at decorating like the pros- and (if they are anything like I am) will have an even bigger appreciation for all cookie decorators! 🙂
If you are hosting a cookie exchange party, I think it is a great idea to have some special, decorated cookies for the kids to eat while they trade cookies with each other. For a cookie exchange, invite each guest to bake and bring a few dozen cookies to share. On a large table or kitchen island, set out each set of cookies with the recipe beside the cookies. Be sure to have a bakery box, gable box, or cookie tin available for each guest to fill with a variety of cookies to take home. A cookie exchange is great because it serves as an activity and a party favor, all in one! 🙂 If the party is not too large, you can also offer the recipe for each cookie that was made with the name of the guest who contributed the recipe. This is a fun way to share your favorite family recipes! I always love leaving a party with a new favorite recipe to try (and, as a side note, Loralee's Sweet Shoppe Collection includes a set of recipe cards that can be used just for this reason). Another little tip…consider having photos with Santa and Mrs. Claus and let the little ones chat with them during the party. A fireside chat and photo opportunity can make for really cute memories! In the past, I have also asked my children's music teachers if they will play the piano and lead a sing-a-long at parties. This is so much fun for everyone and is a great way to end a party on a literal high note!
If you prefer to host a party that includes more than cookies, a Holiday Sweet Shoppe theme is really cute and fun! You can still incorporate many of the ideas above, but add in a variety of treats that you will serve. Just remember that you may want to also serve light sandwiches or finger foods and water for the children to enjoy along with the sweets.
A Sweet Shoppe theme opens up the dessert table to a host of ideas. Cupcakes are always a hit and look extra cute with adorable gingerbread boys and girls. I love serving cupcakes with toppers because they are easy to make or buy and look so pretty with a cupcake wrapper and rosette topper. Minimal effort with maximum effect! And, then cookies ordered from Bambella Cookies always fall into that category for me, too! 🙂
Another easy way to add a sweet treat to your Sweet Shoppe party without a lot of fuss, is to order doughnuts and embellish them. I ordered these doughnuts from Dunkin Doughnuts and added wreath icing toppers made by A Party Made Perfect. Place them on a festive plate, add a colorful napkin, and let them shine! Your guests will love these!
Aren't those so pretty? I love the simplicity of the pink iced doughnut topped with the pretty green royal icing wreath…
So, whether you prefer milk and cookies, a cookie exchange, or a full sweet shop idea for a party, you can use these ideas as a guideline for hosting the holiday party that fits best for you and your family! I look forward to sharing some recipes that I could recommend for holiday parties soon. Check back as I add more ways to celebrate the everyday with you! In the meantime, enjoy these Christmas party ideas… Gingerbread House Party Ideas, Cabin Christmas, Penguin Christmas Party Ideas, and Christmas Craft Party Ideas too!
Also, here is where to find the beautiful Sweet Holiday Collection from Loralee Lewis
To order cookies from Bambella Cookies, you can find Tara here.
To order royal icing wreaths from A Party Made Perfect, you can contact Jennifer here.